Customer Logins
Obtain the data you need to make the most informed decisions by accessing our extensive portfolio of information, analytics, and expertise. Sign in to the product or service center of your choice.
Customer Logins
New Prime Minister for Democratic Republic of Congo

Minister of Communications Lambert Mende stated on 31 January that the People's Party for Reconstruction and Democracy (Parti du Peuple pour la Reconstruction et la Démocratie: PPRD), the leading member of the Democratic Republic of Congo's (DRC) governing coalition, will "make our candidate known, probably by July", in reference to the presidential election scheduled for 23 December (delayed from November 2016).
President Kabila will likely appoint a new prime minister with the aim of further dividing or marginalising the opposition Rally coalition.
Nominating President Kabila as PPRD candidate in the December 23 presidential election would require constitutional change by August.
Policy continuity likely as new prime minister focuses on securing passage of constitutional change.
Mende's statement that the PPRD's candidate selection will go ahead as planned is an indicator that elections will take place in December rather than being further delayed. However, the presidential election is highly unlikely to be held without constitutional changes that remove term limits and allow President Joseph Kabila to stand for a third term. To clear the way for such changes, Kabila will likely continue to seek to divide and fracture opposition forces by co-opting elements of them, and denying official recognition to others.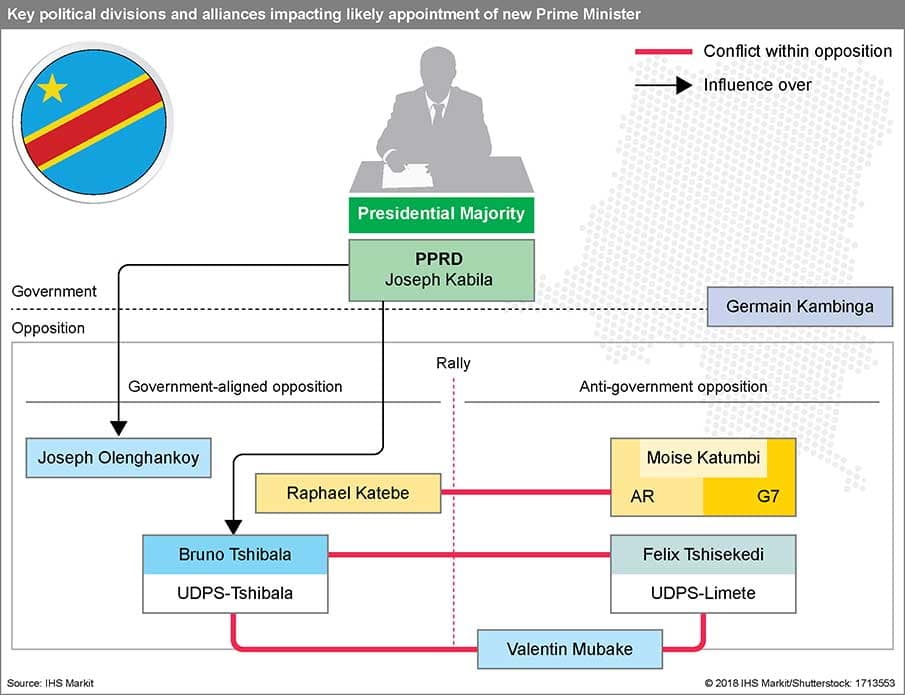 Party splits weaken opposition UDPS
Dividing the Union for Democracy and Social Progress (Union pour la Démocratie et le Progrès Social: UDPS), the largest opposition party, was likely the end goal of the appointment of the last two prime ministers, Bruno Tshibala and Samy Badibanga, respectively. Tshibala claims to have been elected as head of the UDPS at a party congress on 10 December 2017. However, supporters of Felix Tshisekedi, son of the late Etienne Tshisekedi and rival claimant to the UDPS leadership boycotted gathering, instead announcing plans to hold a congress this month to select their own claimant (likely Felix Tshisekedi himself) to party leadership and successor status to Etienne Tshisekedi.
Change of PM increasingly likely
Likely electoral commission recognition of Tshibala's faction as the official "UDPS" ahead of elections would cement the historical party divisions, which have significantly harmed the party's ability to mobilise mass protests against election delays and constitutional changes. With this achieved, President Kabila will be increasingly likely to replace Tshibala as prime minister, selecting a new candidate to further advance these same goals.
Most likely candidates for PM
Selecting the next prime minister from within the opposition Rally (Rassemblement) coalition would serve Kabila's goal of stoking further divisions, and allow for some fealty to the 31 December 2016 agreement, although Kabila will likely avoid appointing any candidate with sufficient political following to demand significant political accommodations and power. UDPS division therefore likely makes Felix Tshisekedi a more attractive prime minister for Kabila. While Felix Tshisekedi has previously appeared more willing than his father to engage with Kabila, during 2017 he demanded political transition without Kabila as president. If Kabila instead seeks to divide the UDPS further instead of appointing Tshisekedi, the likely candidate would be Valentin Mubake, who was officially expelled from the UDPS in April 2017 for meeting with Kabila.
Kabila will probably also seek to divide the Group of Seven (Groupe des Sept: G7) and Alternation for the Republic (Alternance pour la Republique: AR). These branches of the Rally coalition back the exiled Moïse Katumbi (former Governor of Katanga province) as their presidential candidate. Kabila's goal would be served by the appointment of Raphaël Katebe, Katumbi's elder brother, as prime minister. The increasing likelihood of such an appointment has been indicated by Katebe's welcoming of Tshibala's government in April 2017; his gradual distancing from Katumbi and the Rally leadership during 2017 (including the expulsion of his Union des libéraux democrats: ULDC party from the AR in March); and his announcement of his "definitive" return to DRC in December 2017 after years abroad. If President Kabila appoints an opposition prime minister who originates from the Bandundu region in a (likely unsuccessful) attempt to placate Cardinal Laruent Monsengwo (head of the Catholic Church in DRC, a Bandundu native, and an outspoken critic of removing term limits and security forces crackdowns on protesters), then the most likely candidate would be Germain Kambinga, a currently minor political figure who leads the Le Centre coalition, and who has called for dialogue between the government and opposition. Joseph Olenghankoy, who has split from the Rally's main faction led by Etienne Tshisekedi, has support in Bandundu through his Forces of Union and Solidarity (Forces novatrices pour l'union et la solidarité: FONUS) party, but Kabila is more likely to keep him in his position as chairman of the 31 December 2016 agreement's oversight committee, and Katebe's appointment as prime minister would likely receive Olenghankoy's backing.
Outlook and implications
The selection of the PPRD presidential candidate by mid-August suggests that constitutional changes to term limits would have to be completed ahead of this, probably by early July. By contrast, announcements of delays to the PPRD's candidate selection would indicate likely delays to constitutional changes and to scheduled elections, which would drive protest risks in urban areas.
A new prime minister will probably be selected because they lack a strong political base, leaving them with little leverage to challenge entrenched interests in the state. Significant policy changes or fresh initiatives are therefore improbable. Notably, it is unlikely to derail final passage of the revised mining code, which has passed the National Assembly and Senate, and is currently awaiting presidential approval. The government's need for a significant injection of new funds ahead of any constitutional changes (to secure passage of the changes through the legislature and popular referendum) and the holding of elections (for the use of ruling coalition candidates in securing re-election) is likely driving the government's push to introduce a profit windfall "super tax" and immediately increase mining royalties, particularly on copper and cobalt in light of their recent price increases. Lobbying efforts by international mining corporations against the new code are unlikely to derail it altogether, but are more likely to secure changes or exceptions to the proposed removal of the 10-year contract stability period in non-royalty areas.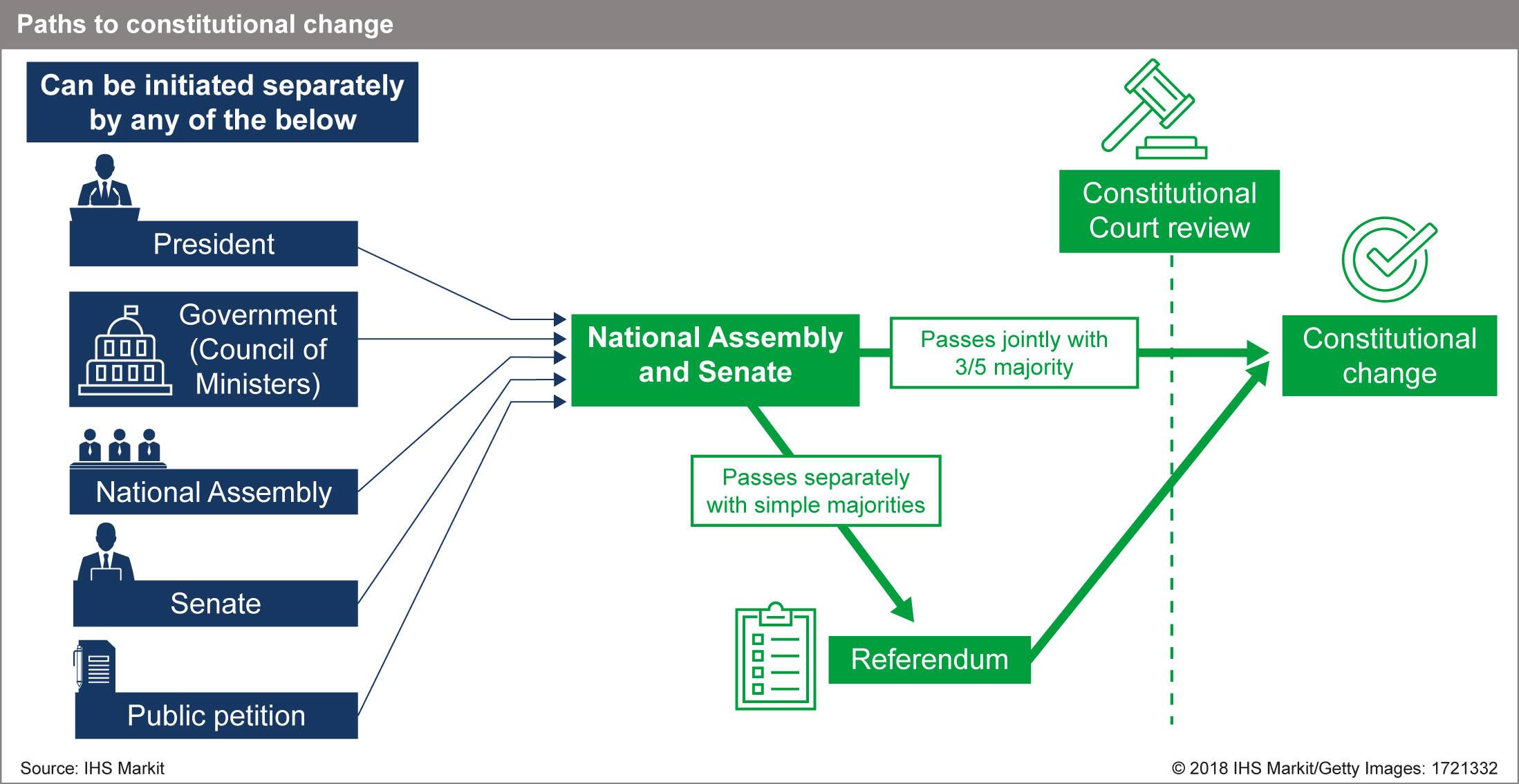 RELATED INDUSTRIES & TOPICS