Customer Logins
Obtain the data you need to make the most informed decisions by accessing our extensive portfolio of information, analytics, and expertise. Sign in to the product or service center of your choice.
Customer Logins
Looking Beyond Sport Utilities, Pickups and Sedans to the Other Body Types

It seems as if barely a minute goes by in the auto industry without mention of the growth of sport utilities and pickups at the expense of sedans. And there is no denying this trend, as sport utilities have gained eleven points of market share in the United States, and sedans have given up ten points, in the five years from 2012 through now (see lower table below). But there is very little, if any, discussion about the other body styles, of which there are five significant ones, including van, hatchback, coupe, convertible, and station wagon.
IHS Markit loyalty data indicate all five of these lower-visibility body types are, like sedans, losing ground. While overall body style loyalty (the propensity of a household, when returning to market, to acquire the same body style as what is in the garage) has risen 4.7 percentage points since 2012 and now stands at 52.3%, only sport utilities and sedans have enjoyed a greater five-year rise. In contrast, all the other body styles have seen either a decline or smaller increase than the industry (see first table below). (Also note that the relative positions of the three dominant body styles have changed since 2012; five years ago sedans had the highest loyalty, but currently both sport utilities and pickups lead the industry.)
As US households have moved to sport utilities and pickups at the expense of sedans and the five other categories, all car body styles have lost market share (see lower table below). The combined share of the four lower-volume car body styles (hatchback, coupe, station wagon and convertible) has dropped more than three points to just 8.2%; in other words, these four categories together now account for less than one of every ten new vehicles registered.
The decline of these lower-volume body styles has been driven by several factors, including the decline of sedans themselves, from which coupes and convertibles usually are derived. Also, as sport utilities have proliferated, manufacturers are offering more and more SUV/CUV derivatives incorporating coupe-like designs, such as the BMW X2, X4 and X6, and the Mercedes-Benz GLC Coupe and GLE Coupe, among others. Lastly, while the data indicate hatchbacks are in decline, the line between a hatchback car and crossover utility vehicle can be vague, with some of the latter very similar in sheet metal and dimensions to the former.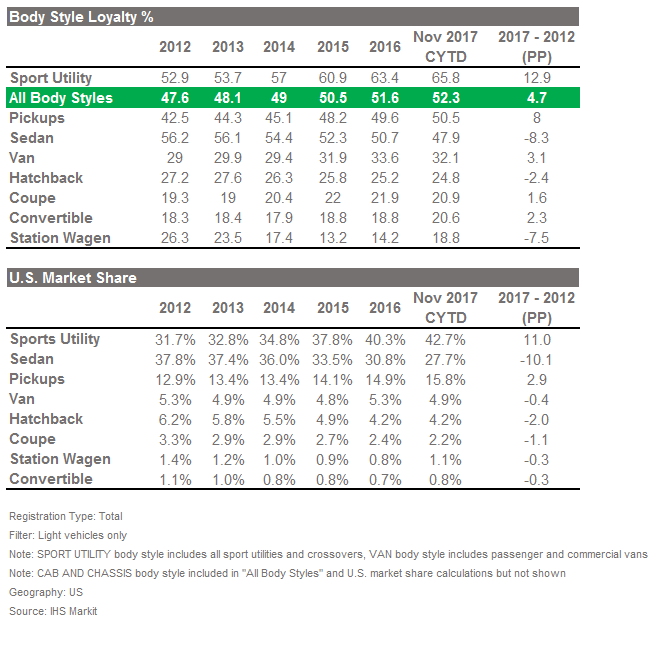 RELATED INDUSTRIES & TOPICS