Customer Logins
Obtain the data you need to make the most informed decisions by accessing our extensive portfolio of information, analytics, and expertise. Sign in to the product or service center of your choice.
Customer Logins
Kazakh economic recovery impresses, as oil and gas development spurs growth

Kazakhstan did not abide by its commitment to constrain oil production in 2017 as officially agreed under the joint deal between OPEC and non-OPEC oil producers.
Instead, with the help of output from the new Kashagan oil field, oil production reached record-levels, delivering strong GDP recovery in 2017.
Solid industrial performance should continue. Oil prices remain high and export prospects encouraging, and we continue to expect that Kazakhstan will continue to ignore its output-restriction commitments, officially renewed for 2018.
Record oil output carries economic recovery
Unsurprisingly, the clear GDP recovery in 2017 largely followed the fortunes of Kazakhstan's all-important industrial sector, led by oil and gas production. Indeed, State Statistics Agency data show that industrial growth reached 7.1%, in a complete turnaround from the modest contraction suffered in 2016. This, further, lifted GDP growth to 4.0%, up markedly from 1.0% in 2016. Output of oil and gas condensate, in particular, increased by 10.5%, the 2017 total of 86.2 million tonnes marking a record high for Kazakhstan, and clearly exceeding even the upward adjusted annual production target of 81 million tonnes.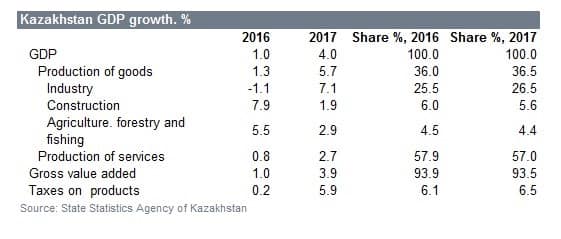 Some needed redemption for ill-fated Kashagan project
The success of Kazakhstan's oil sector during 2017 was largely determined by output from the Kashagan oil field. Production in this giant offshore North Caspian Operating Company (NCOC) project restarted in late 2016, reaching commercial level output of 75,000 barrels/day (b/d) in November 2016. This came as great relief for the operating consortium, after the project had suffered a series of substantive cost overruns and considerable delays since development commenced in 2001. (The latest of these had been a discovery of corrosion in pipelines which had shut down production just weeks after initial launch in September 2013.) Moreover, output at Kashagan actually ended up significantly exceeding expectations; against the original annual target of 5 million tonnes, Kashagan produced 7.3 million tonnes of oil. The recovery of oil prices to average USD54.2 per barrel (pb, Brent), following USD43.7 pb in 2016, also supported Kazakhstan's oil output and export values.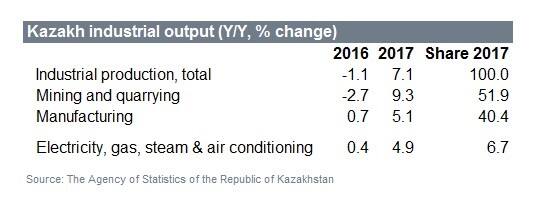 Non-compliance to production-cut deal aids success
As determined in the joint agreement between Organization of Petrol Exporting Countries (OPEC) and non-OPEC oil producers in January 2017, Kazakhstan was to curtail its oil output to 1.68 million barrels b/d for six months, down by 20,000 b/d. However, as IHS Markit expected, oil-sector results for 2017 did not end up showing a net negative impact from this deal. Instead, Kazakhstan's strong energy-sector, industrial, and GDP growth performance over 2017 were to an important degree facilitated by Kazakhstan not abiding by its agreement to constrain oil output as determined by the joint deal. In fact, through its non-compliance, Kazakhstan by the end of the year overtook Iraq as the biggest overproducer of the deal (Bloomberg, 11 January 2018).
Same factors keep outlook bright
Base effects resulting from the restart of oil production in the Kashagan field from October 2016 are likely to have a negative impact on oil and gas sector expansion in annual terms in the coming quarters. However, notwithstanding the strong base, the government does not project a fall in production this year; the official production target for 2018 has been set at 87 million tonnes, as in late February confirmed by Kazakhstan's Minister for Energy Kanat Bozymbayev (Kazakhstan Newsline, 26 February 2018). Specifically, Kashagan output is projected at 11 million tonnes. Meanwhile, the OPEC and non-OPEC producers' output restriction deal has been extended until the end of 2018. However, the official oil production targets continue to signal that Kazakhstan does not intend to comply with the output restrictions this year either.
Moreover, high oil prices (IHS Markit forecast puts the 2018 average Brent price to USD63.3 pb) and encouraging export prospects add to the positive outlook. External demand from important European trade partners, such as Italy and the Netherlands, as well as Russia, should remain fairly strong. Therefore, in our February forecast, we have lifted our 2018 growth forecast slightly further, to 3.6%. This comes near the government's latest, upgraded projection of 3.5%, stated as "the minimum" by the Kazakh Minister of the National Economy Timur Suleimenov (Interfax, 30 January 2018).
Key risks to the forecasts relate to the volatility of oil prices, external demand conditions, and to exchange rate developments (which in Kazakhstan are, naturally, related to oil prices), as well as potential supply disruptions such as any technical issues in the Kashagan field, along with the risk of financial instability posed by the persistent banking sector challenges.
RELATED INDUSTRIES & TOPICS