Customer Logins
Obtain the data you need to make the most informed decisions by accessing our extensive portfolio of information, analytics, and expertise. Sign in to the product or service center of your choice.
Customer Logins
China expands short-range maritime ISR capabilities

This is an extract from an article from Jane's Intelligence Review
China's growing long-range surveillance capabilities are being complemented by an increase in shorter-range platforms and sensors. Andrew Tate examines Beijing's tactical maritime intelligence, surveillance, and reconnaissance capabilities.
Key Points
China's short-range maritime intelligence, surveillance, and reconnaissance capabilities are directed primarily at the waters between the coast and the First Island Chain, and include land-, air-, and sea-based platforms and sensors.
China is rapidly expanding its fixed-wing airborne fleet of early warning, electronic intelligence, and maritime patrol aircraft; as facilities are completed on features constructed in the South China Sea, these aircraft are likely to be increasingly deployed in this disputed area.
There are significant limitations to the conclusions that can be drawn in this area when relying on open sources, primarily around performance of systems, effective integration of intelligence from different platforms, and the nature of much underwater activity.
China's growing long-range surveillance capabilities provide increasingly persistent coverage beyond the First Island Chain (formed by the Japanese archipelago, Taiwan, and the northern Philippines), to a range of approximately 2,500 km from China's coast. Key components of this long-range surveillance are over-the-horizon radars and an increasing number of satellites providing electro-optical, infrared, and radar imagery, as well as platform location from intercepted transmissions.
These capabilities are complemented by shorter-range platforms and sensors, which provide coverage from the coast to the First Island Chain and – in some cases – beyond. As with long-range surveillance, they are also growing in number and capabilities.
In common with most coastal nations in peacetime, China perceives a need to monitor closely the activities of ships and aircraft from other states operating in the approaches to its coast, specifically within the First Island Chain. From a Chinese perspective, the situation is made more challenging by the proximity of neighbouring countries (notably Japan and South Korea) that have close military relationships with the US.
China has constructed a number of over-the-horizon (OTH) radars that exploit the propagation of electromagnetic waves at certain high frequencies (HF) as surface waves, which follow the curvature of the earth. Performance will depend upon atmospheric conditions, but it is estimated that these OTH (SW) radars are likely to provide coverage out to 300–400 km over an arc of 60 degrees. China also operates OTH radars that exploit the backscattering of transmissions from the ionosphere for surveillance up to 3,500 km.
Although the OTH (SW) radar sites were constructed 10 or more years ago, much of the remainder of China's short-range surveillance capabilities has been considerably enhanced since 2012. Previous capability gaps are being plugged and the number of ISR platforms in service can be expected to increase during the next five years. The increasing number of operational ISR aircraft is also apparent from overhead imagery. Two of the key airfields from which surveillance aircraft operate are at Laiyang and Lingshui on Hainan.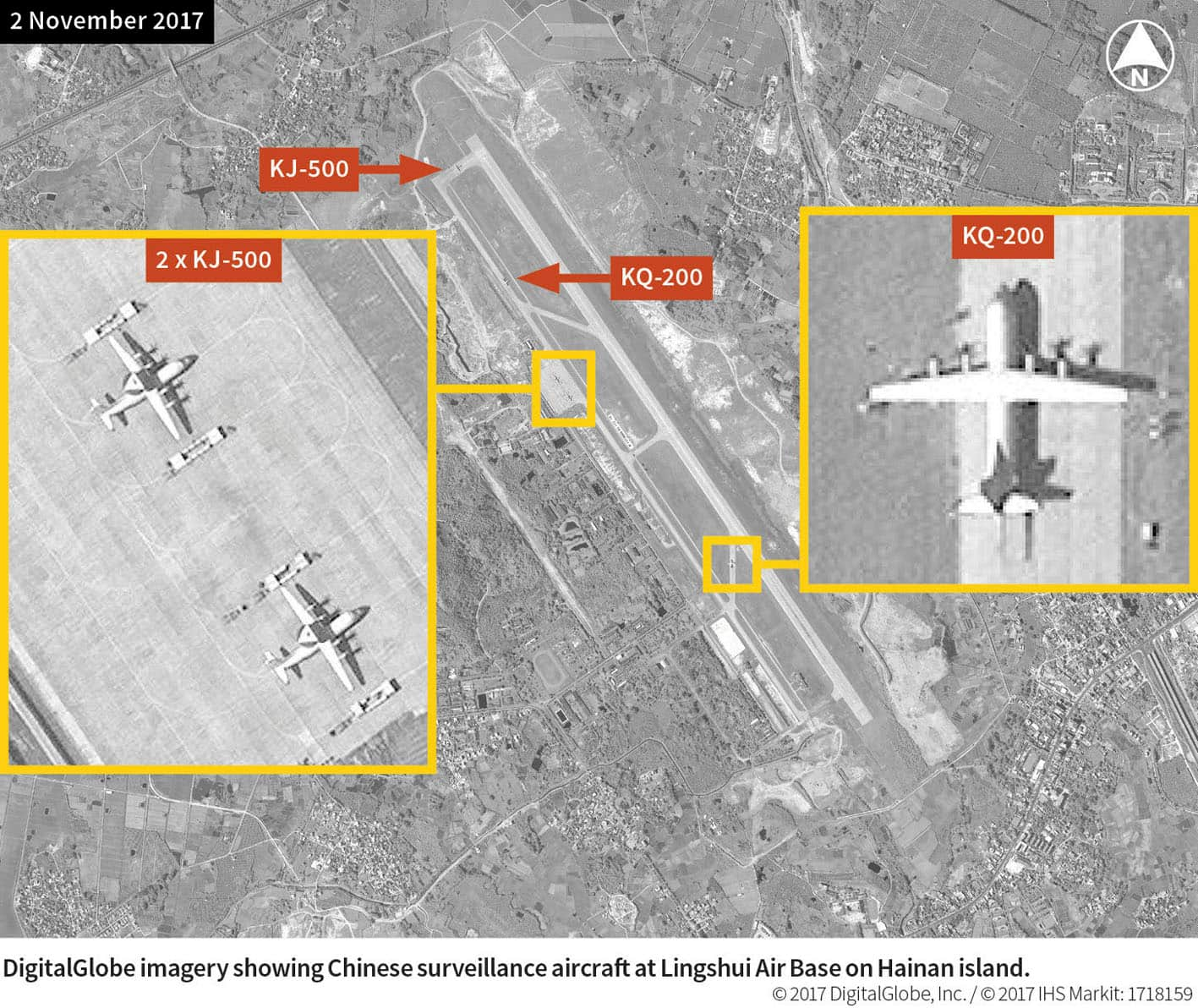 This is an extract from an article that appeared in Jane's Intelligence Review. Learn more
Andrew Tate is a Jane's contributor, a former UK Royal Navy officer, and formerly a naval and air attaché at the British Embassy in Beijing.
Posted 23 January 2018