Customer Logins
Obtain the data you need to make the most informed decisions by accessing our extensive portfolio of information, analytics, and expertise. Sign in to the product or service center of your choice.
Customer Logins
4K, HDR and the Old Masters in painting: what do they have in common?

03 October 2018
Maria Aguete
For the last four years. the consumer electronics industry has followed a classical push strategy on its 4K products, assiduously promoting the technology to the buying public. To consumers, however, the value proposition to be obtained from watching UHD content has been weak, supported by streaming services alone like Netflix and Amazon, along with some satellite channels.
And despite 4K making up more than 50% of current TV shipments to China, Western Europe, and North America, 4K channel availability is still low.
This type of disconnect-in this case, between an ostensibly strong market that is, in fact, undercut by inadequate infrastructure-brings up corollary questions of interest. How, for instance, can you educate consumers in something that needs to be experienced? Are consumers fully aware of the benefits of technology like ultra-high-definition (UHD) or high dynamic range (HDR)? And are broadcasters prepared to invest in 4K/UHD technology?
The chart below shows IHS Markit figures for 4K shipments from Q2 2017 to Q2 2018. As shown in the chart, 4K shipments rose during the year-long period across all regions except in North America.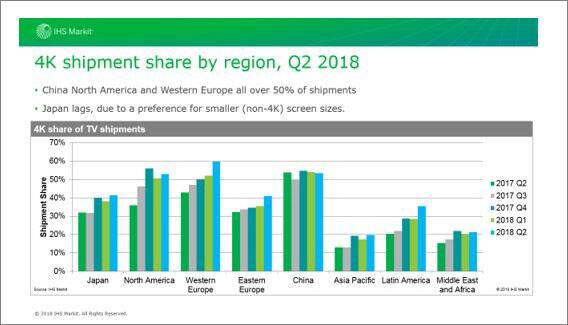 The painterly effect of HDR
Nearly 400 years ago, Dutch master Rembrandt realized the importance of HDR techniques in his paintings, exemplified by The Night Watch, currently on permanent loan to the Rijksmuseum in Amsterdam, the Netherlands, from the Amsterdam Museum.
The beautiful contrast of light and dark is deployed to spectacular effect in the painting, widely regarded as one of Rembrandt's masterpieces. One doesn't so much "see" the painting as "see through" it-and in the process, go on to apprehend a larger, more personal meaning than what the scene simply suggests. Such is the hallmark of works by true masters.
When done properly, HDR has that similar "wow" effect. On the one hand, HDR's vivid image will make you feel as if you're right at the scene-looking at a bank of flowers carpeting a field of green, or a stormy sky flecked with angry clouds of gray. And maybe, seeing these images evokes a memory, a feeling, an emotion-something remembered and meaningful that goes well beyond mere perception of stunning color. This cannot be achieved with standard definition, for which HDR is unavailable to begin with.
IHS Markit Q&A with AT&T
Ahead of the IBC Masterclass in Amsterdam, Maria Rua Aguete, executive director at IHS Markit, talked to AT&T about both the challenges and opportunities presented by UHD and HDR from the operator point of view.
AT&T/DirecTV has a long history of being a technology leader in the latest video formats-from digital and high definition, and now in 4K UHD and live 4K HDR. For instance, DirecTV was the first US pay-TV provider to broadcast live sports in 4K; it did this in 2016. Then, in 2017, it became the first to broadcast 4K with HDR.
Earlier this year, DirecTV added another feather to its cap as the first to carry in 4K HDR all four golf majors- the US Masters, the US Open Championship, the British Open Championship, and the PGA Championship.
Below is the Q&A session conducted by Aguete (MA) and AT&T.
Q: When did you launch UHD and HDR content?
A: 4K video-on-demand in November 2014; linear UHD in April 2016; and HDR in December 2017.
Q: There are currently many HDR standards in the market. Is there a single best HDR format?
A: We primarily use HLG (Hybrid Log Gamma) for our linear 4K HDR broadcasts and HDR10 for video-on-demand.
Q: Should broadcasters wait until a single victorious HDR format emerges? Or should they jump in now, as you did?
A: We're prepared to handle multiple formats of HDR and have shown that they can coexist-we deliver 4K HLG for our linear channels and 4K HDR10 for our VoD channels. In comparison, most broadcasters produce and deliver live content as HLG, while some others produce live content in HLG and deliver as HDR10. For VOD content, most content providers are delivering HDR10. Each HDR format has its own strengths, and we are able to take advantage of each one to best satisfy our customers.
Q: What are the main selling points of HDR content versus non-HDR?
A: The 4K HDR broadcast combines technologies that enhance a variety of elements of the picture:
HDR delivers better contrast. You'll see greater detail in the clouds on a sunny day, the foam on the ocean waves, and the sand in a sand trap.
WCG, or Wide Color Gamut, makes the colors on your TV more closely match what it looks like if you were there on the scene.
10-bit color depth gives you smoother gradations in color. Sunsets will be smooth and even, rather than banded.
60 frames per second gives you more fluid motion in fast action and sharper pictures, which is fantastic for live sporting events. You'll see greater clarity for every play.
4K resolution offers 4 times the HD resolution. This means you'll see every blade of grass on the field or the dimples on a golf ball in greater detail than ever before.
Q: Are consumers willing to pay more for HDR content? How can content producers monetize or justify the high costs of HDR? Can broadcasters expect higher carriage fees for HDR content? Can they charge more to the consumer?
A: We offer a 4K channel at every level. For example, a subscription to the "Select" package or above receives 4K channels 104, 105 and 106. Depending on the type of 4K program that the customer is looking for, a certain minimum-level package may be required. The requirements to view 4K HDR includes the following:
Professional installation.
Genie HD DVR-model HR54 and above
A compatible 4K HDR TV connected to the latest 4K Genie Mini. If your 4K TV does not support HDR, content will be viewable in standard 4K
Q: Which content is more suited for HDR? Sports? Documentaries? Movies?
A: HDR is suitable for any content that has the power to further immerse an audience. It's as close as possible to feeling like you're there in person. So, whether you want to witness an epic college football matchup live, go deep into the wilderness with a stunning documentary, or feel the true thrill of a suspenseful drama with a film, you're covered with DirecTV's three fully dedicated 4K channels.
Q: What are the challenges and opportunities of HDR?
A: The challenges of HDR are no different than in 4K or any new format that is just coming to market. I'm referring to the lack of content. On the flip side, the opportunities of HDR are great, especially as many studios have already embraced the technology. As a result, we are seeing lots of sporting events, documentaries, concerts, and other offerings in HDR.
Maria Rua Aguete is executive director for media, service providers and platforms at IHS Markit
Posted 1 October 2018
RELATED INDUSTRIES & TOPICS