Customer Logins
Obtain the data you need to make the most informed decisions by accessing our extensive portfolio of information, analytics, and expertise. Sign in to the product or service center of your choice.
Customer Logins
2021 offshore rig market: Out of intensive care but in rehab
The global offshore rig market is set to continue its tentative recovery for the foreseeable future. Overall, demand continues to rise, albeit in a more muted sense than was first anticipated for the period between late 2019 and 2021, and there is cause to remain cautiously optimistic. Rig demand is expected to increase by approximately 16.3% between 2019 and 2021 with an average demand of 473 units in 2019 climbing to 550 units in 2021. Jackup demand is expected to make up a large majority of the increase, growing by 12.5% from 345 units on average in 2019 to 388 units in 2021. On the floater side, semi demand could increase from 69 units to 84 (21.7%), while drillship demand is forecasted to increase from 59 units to 78 (32.2%). There remains potential for demand to rise yet further as the market gains increased visibility when upcoming programmes get firmed up over the next 18 months.
While these increases in demand are front loaded with more programmes visible in the short term, it is probable that many drilling campaigns will continue to be delayed, which would lower demand in 2020 and push things into 2021 and beyond. This is particularly true the longer the price of oil remains low and relatively unstable, especially in the face of cheap onshore alternatives and general disruptions in the form of trade and geopolitical disputes.
Jackups
Yet more growth to come in the Middle East
The Middle East continues to drive the vast majority of jackup demand with the region recently surpassing its previous high of 130 contracted units in 2015 to 136. Over the next two years, demand is expected to continue to rise with the 2021 forecast averaging 152.5 units. Demand in the Middle East will be mostly driven by the region's NOCs increasing their production goals, predominantly in Qatar, Saudi Arabia, and the United Arab Emirates, with an expected increase in jackup demand if there are no global events or geopolitical factors to hamper the current plans. For example, in aiming to increase domestic oil production, Abu Dhabi's ADNOC intends to increase its rig fleet from 27 units to potentially 35 to 40 units over the next several years. In Qatar, the rig fleet is expected to increase from an average of 14.7 units now to 22.7 through 2021. Meanwhile, Saudi Aramco plans to maintain its position as the world's leading oil producer by volume by further developing its lighter crude oil potential and its offshore fields. Shallow-water developments in both Saudi Arabia and the Partitioned Neutral Zone are projected to account for over 60% of Saudi Aramco's new source volumes in the near term.
Strong growth is expected in the Indian Ocean with demand expected to rise from the 2019 average of 28.4 units to 37.6 in 2021. West Africa is also expected to see a higher level of activity thanks to the return of longer-term developments to the agenda. Demand in that region is expected to rise to an average of 20.3 units through 2021, compared to the 2019 average of 14.0 units. Mexico also continues to show a steady increase in activity. This trend is not expected to abate in the near future, although it may flatten out in 2021 with current projections showing a 2021 average of 32.2 units.
Jackup recovery remains slow in certain markets
That said, a number of markets around the globe are not currently showing signs of dramatic growth. In the North Sea, the demand forecast for 2021 of 30.7 units is only slightly higher than the 2019 average demand of 29.8 units. There is scope, however, for demand to rise as operators finalise their requirements for 2021. In the Far East, demand is expected to end 2019 at 46.0 units with just a slight decrease to 43.0 units in 2021 due to units mobilising to other regions.
Demand for jackups in North America is similarly not forecast to change much over the next two years. The Canadian market currently has one rig working, but after mid-2020. Opportunities for this unit are expected to dry up, and it will leave for another region. In the US Gulf, marketed utilisation is expected to be relatively flat, with dips during hurricane season each year. Overall, jackup demand in the region should stay between 10.0 and 11.0 units over the period. Finally, in South America, demand for jackups in the region is expected to stay relatively flat and low with demand having a floor of two units, but could reach as high as four over the next couple of years.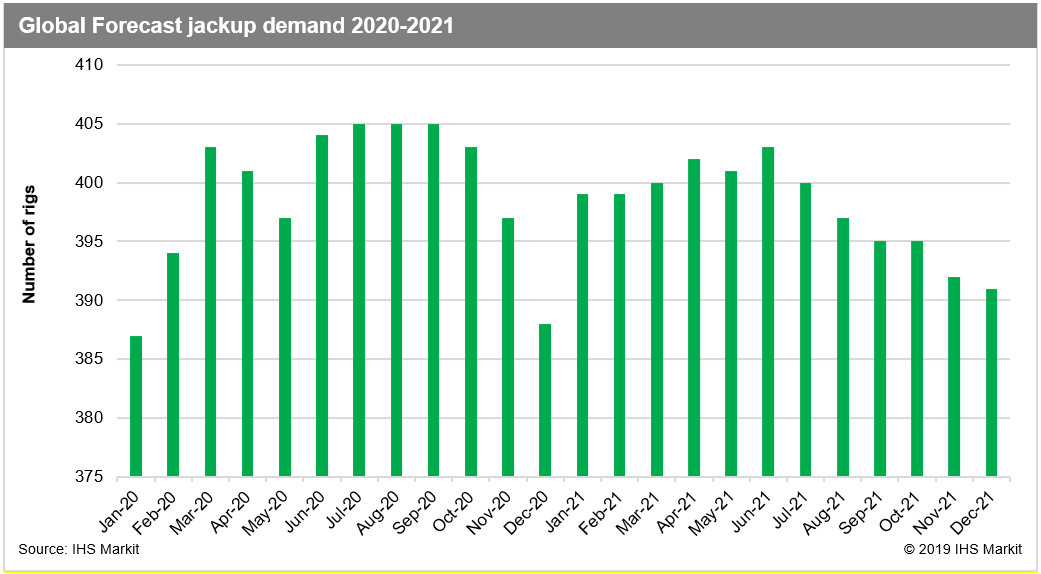 Figure 2: Global Forecast jackup demand 2020 - 2021
Floaters
Activity increasing in the Golden Triangle
Generally, the rise in floater demand will be driven by a slight resurgence in the Golden Triangle, which has been relatively quiet of late. Floater activity continues to drive the entire South American region with Guyana alone potentially having up to five units working for ExxonMobil in 2021. In Brazil, Petrobras is finally in a mode of replacing a handful of the rigs it has been releasing recently, which will stem the bleeding there, while foreign operators will slowly play a larger role in the country, primarily in the pre-salt areas. Demand for semis in the region is forecast to climb from an average of 4.8 units in 2019 to 10.3 in 2021, while drillship demand could climb from an average of 14.4 rigs in 2019 to 23.4 in 2021, although that could be a somewhat optimistic pace.
Longer-term deepwater development programmes across West Africa will push an incremental rise in the drillship market between the 2019 average of 11.4 units and the 2021 average of 16.0 units. The semi market has remained basically flat across West Africa with very little work to be found, but there is potential for some harsh-environment work in South Africa following Total's recent discovery at Brulpadda. At present, the highest level of demand is concentrated in late 2020 to early 2021 when a number of long-term developments are expected to kick off in Angola and Nigeria, but that could increase as operators potentially pencil in developments for Ghana, Senegal, and Mauritania.
While North America and Central America are separate regions, the Gulf of Mexico binds them. A new trend we expect to see more of going forward are floaters moving between the US and Mexican sectors of the Gulf, particularly during the early stages of exploratory drilling by foreign operators in Mexico's deep waters. However, the bulk of the programmes in Mexico are generally short and difficult to project. As such, with work in Trinidad and Tobago providing a boost to the numbers, floater demand will average 2.2 semis and 2.2 drillships this year, but those figures could go either way over the next two years depending on how successful ongoing exploration campaigns are in Mexico.
Demand in North America is forecast to grow slowly over the next two years. The small semi market will experience more growth off Canada, as multiple pending exploration programmes commence, than in the US Gulf, which primarily uses semis for the narrow mid-water sector. As such, the demand for semis in the region is expected to climb steadily climb from an average of 5.3 units in 2019 to 7.4 in 2021. Looking at the drillship category, only one unit is expected to work off Canada over the next two years on a short-term program in 2020. The remainder of the drillship demand comes from the US Gulf. Similar to the demand for semis in the region, the demand for drillships is expected to slowly tick slowly upwards over the next two years, from an average of 18.2 this year to 20.1 in 2021.
Further areas of growth include East Africa, which will play a major role in growing floater demand as discoveries made over the last few years get developed. Mozambique, in particular, has a number of long-term development programmes coming up with Anadarko, Eni, and ExxonMobil. Myanmar will also remain active, but at not much more than current levels.
Norway remains strong in Northwest Europe floater market
In Europe, the Norwegian floater segment continues to dominate the Northwest, which has an expected modest rise in demand from the 2019 average of 25.6 units to 27.9 units in 2021. The familiar pattern of demand peaking over the second and third quarters and reducing over the winter is expected to continue in 2021. In the Mediterranean, the 2019 drillship average of 2.7 units is expected to rise to a 2021 average of 5.2. Most of this demand will be focused on the eastern Mediterranean and the Levant Basin of Egypt, Cyprus, and Israel. Semis should see a steady increase from an average of 2.7 rigs in 2019 to 4.2 in 2021.
On the fringes of the deepwater market there will be little to no demand increase. In Australia and New Zealand, the growth rate in the rig count is not likely not to continue as demand will only increase marginally, from an average of 5.0 semis this year to 5.3 in 2021, while drillship demand is expected to stay at or near zero for the duration. In the Far East, semi demand will hover right at 11.5 units between now and the end of 2021 and drillship demand will stay at 1.0 unit for the duration. While nearly all of the work in the region is situated off the coast of China, there will be a small amount of floater demand in Japan, plus a few semis can find work off Russia in the summer months. Meanwhile, Southeast Asia will see drillships stabilise at around 1.8 units through 2021 and the semi market is set to say between 2.1 and 2.3 units over the next two years.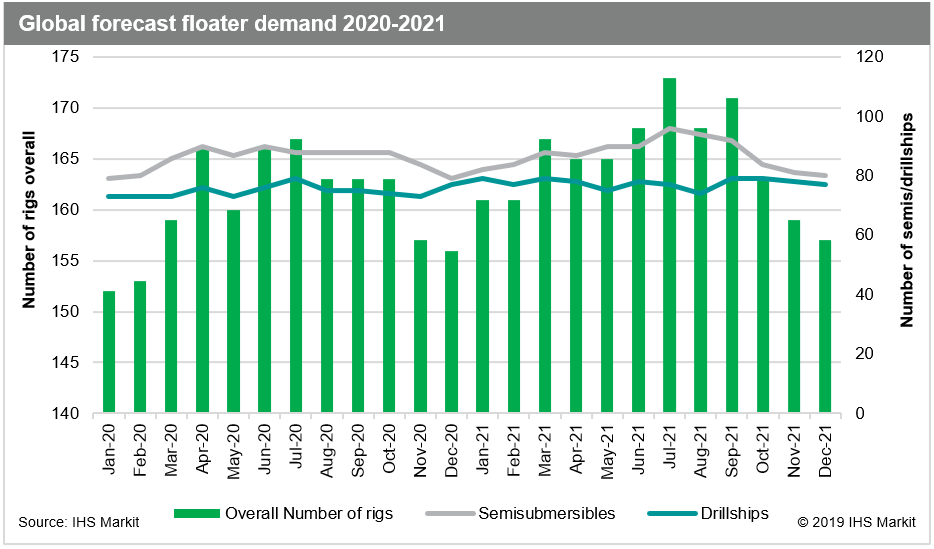 Figure 3: Global forecast floater demand 2020 - 2021
Get access to the most comprehensive commercial data and market intelligence covering the global offshore rig industry with IHS Markit RigPoint.
Sarah McLean is a Senior Rig Analyst for IHS Markit.
Justin Smith is an Offshore Rig Analyst for IHS Markit.
Posted 18 September 2019
---
Follow IHS Markit Energy
RELATED INDUSTRIES & TOPICS
{"items" : [ {"name":"share","enabled":true,"desc":"<strong>Share</strong>","mobdesc":"Share","options":[ {"name":"facebook","url":"https://www.facebook.com/sharer.php?u=http%3a%2f%2fihsmarkit.com%2fresearch-analysis%2f2021-offshore-rig-market-out-of-intensive-care-but-in-rehab.html","enabled":true},{"name":"twitter","url":"https://twitter.com/intent/tweet?url=http%3a%2f%2fihsmarkit.com%2fresearch-analysis%2f2021-offshore-rig-market-out-of-intensive-care-but-in-rehab.html&text=2021+offshore+rig+market%3a+Out+of+intensive+care+but+in+rehab+%7c+IHS+Markit+","enabled":true},{"name":"linkedin","url":"https://www.linkedin.com/sharing/share-offsite/?url=http%3a%2f%2fihsmarkit.com%2fresearch-analysis%2f2021-offshore-rig-market-out-of-intensive-care-but-in-rehab.html","enabled":true},{"name":"email","url":"?subject=2021 offshore rig market: Out of intensive care but in rehab | IHS Markit &body=http%3a%2f%2fihsmarkit.com%2fresearch-analysis%2f2021-offshore-rig-market-out-of-intensive-care-but-in-rehab.html","enabled":true},{"name":"whatsapp","url":"https://api.whatsapp.com/send?text=2021+offshore+rig+market%3a+Out+of+intensive+care+but+in+rehab+%7c+IHS+Markit+ http%3a%2f%2fihsmarkit.com%2fresearch-analysis%2f2021-offshore-rig-market-out-of-intensive-care-but-in-rehab.html","enabled":true}]}, {"name":"rtt","enabled":true,"mobdesc":"Top"} ]}