Customer Logins
Obtain the data you need to make the most informed decisions by accessing our extensive portfolio of information, analytics, and expertise. Sign in to the product or service center of your choice.
Customer Logins
Stocks to watch out for this week

We reveal the stocks that are heavily targeted by short sellers ahead of earnings announcements
Shorts circle round MBIA after Puerto Rican muni meltdown
Key week for UK retail shorts with Marks & Spencer and Sainsbury reporting
Japan Display skeptics stay the course despite recent rally
North America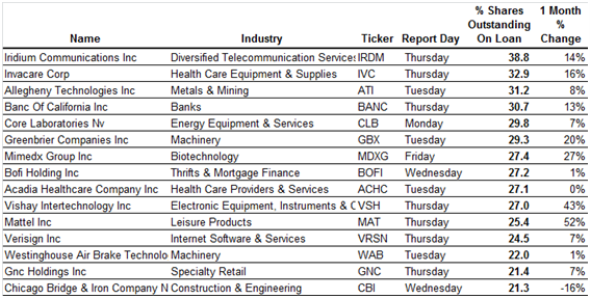 The most shorted company announcing earnings this week is mercurial cloud infrastructure play Applied Optoelectronics. Over 45% of the company's shares are now on loan to short sellers after they redoubled their efforts after its earnings update back in August.
This earnings disappointment - attributed to a sharp drop in orders from key cloud customers such as Amazon - put an end to the rally that caused Applied shares to quadruple since the start of January. Short sellers were starting to believe the hype since they covered their positions heading into August, but their resolve has since been renewed. Applied further fueled short sellers' appetites recently by announcing a profits warning that sent its shares slump past the 60% mark.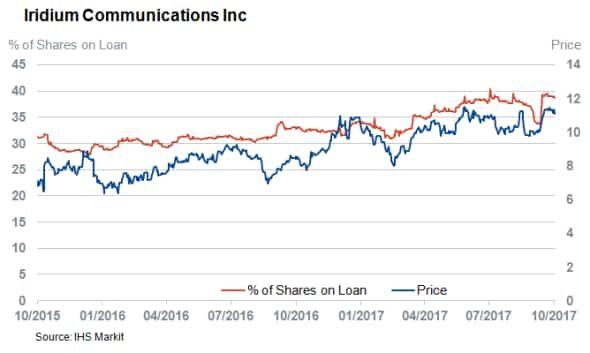 Amazon is also a key protagonist driving shorts to target J C Penney, the second most shorted company to announce earnings. J C Penney's long running battle for survival may be starting to enter its final act; its shares have sunk to a new all-time low.
On the other end of the spectrum, JC Penney's current short interest represents a new all-time high for the company, indicating short sellers think there is a downside ahead for the firm's long suffering equity holders.
Short sellers are also making bets on the fallout from Hurricane Maria and its impact on Puerto Rican municipal bonds. The hot trade on the equity side has been to short shares of monoline insurer MBIA, which is on the hook for over $4bn of the territory's municipal bonds. MBIA shares were heavily shorted prior to Hurricane Maria, however, the prospects that Puerto Rican bond holders would be "wiped out" has prompted shorts to triple their bets in the subsequent weeks.
Europe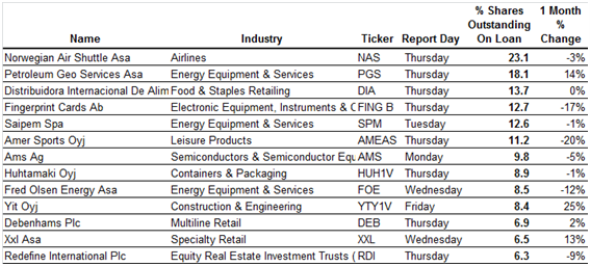 The lingering effects of the energy slump have driven much of the shorting activity leading up to earnings. Although oil prices have been steadily increasing recently, energy companies are still cautious with regards to capital spending, which negatively impacts equipment firms. Shorts are so confident in this trade that the three most borrowed companies announcing earnings in Europe next week - Burckhardt Compression, Maire Tecnimont and Valourec - all derive a majority of their revenue from new capital spending in the energy space.
Spanish engineering firm Tecnicas Reunidas, which also has a large exposure to the energy space, has been climbing up short sellers' agenda. Short sellers have increased their borrow in the firm by more than 20% in the last month.
Italian banks have also been a favorite target of short sellers in the last few weeks -specifically, the country's smaller institutions that are still saddled with non-performing loans on their balance sheets. These woes were compounded last month when the ECB put forth new guidance that will force banks to cover the value of their non-performing loans over the next few years. Credit rating agency Moody's was quick to cite these developments in its recent note highlighting the negative outlook for the Italian banking system.
Credito Valtelinesse, which recently had its long-term credit rating slashed by Moody's, has incurred the most short interest - 14% of its shares are now out on loan. Demand to borrow shares of the bank has increased significantly in the three weeks since the ECB issued its renewed guidelines on non-performing loans.
Fellow Italian banks Banco Bmp and Bper Banca have also been targeted by short sellers over that period of time - demand to borrow shares in each of the banks has increased by more than 50% in the last month.
Next week also promises to be a busy one for UK short sellers. Retail stalwarts Marks & Spencer and Sainsbury are due to announce half-year results. Both firms have come under increasing pressure from short sellers who are hoping to capitalize on falling customer purchasing power in the aftermath of Brexit.
Asia
Asian short sellers feel most passionate about social game developer Klab - a fifth of its shares are now on loan. Klab fits the bill of high flying Japanese shares which have attracted short sellers following a stellar run. After doubling down in the face of a runaway share price, short sellers took advantage of a retreat in Klab's shares to pare back their positions. Despite this profit taking, Klab still sees more than ten times more the demand to borrow its shares in comparison to the average constituent of the Nikkei 225 index.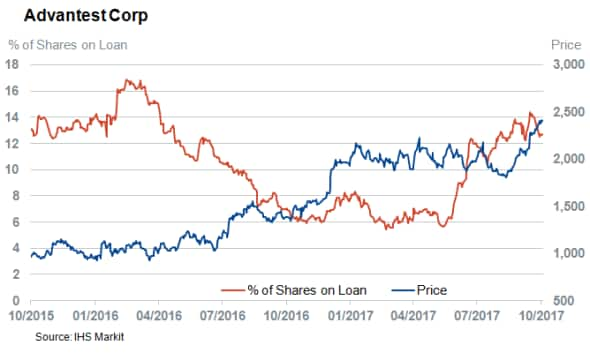 Short sellers have been equally willing to stay the course in Japan Display. Demand to borrow the company's shares has remained steady, despite their recent rally, because of rumors that the company may soon supply LCD displays to Apple. Japan Display shares rallied by more than a quarter on this news - however, shorting activity has continued to hover near the recent all-time highs. Analysts who cover Japan Display remain equally unshaken by these rumors. They haven't materially revised their near-term outlook of the company over the last few weeks.
Simon Colvin, Research Analyst at IHS Markit
Tel: +44 207 264 7614
simon.colvin@markit.com
RELATED INDUSTRIES & TOPICS