Performance measurements to improve operations and maintenance
Wind Power Plant Benchmarking data from IHS Markit shows O&M costs per MW increase 21% from the first year of operation to the tenth while the overall fleet age is increasing. In 2018, less than 20% of global turbine capacity was over 10 years of age, but by 2030, that percentage will grow to over 50%. IHS Markit benchmarking enables participants to evaluate their projects across key performance indicators from more than 330 projects representing more than 35 MW of capacity and nearly 20,000 turbines. For participation in the service, owner or operators are required to contribute data.
Key benefits:
Make O&M outsourcing decisions: Should you handle in-house or outsource?
Benchmark your O&M performance against peers with similar turbines.
Evaluate M&A opportunities: If you are thinking about acquiring a wind farm, how do the turbines in that wind farm generally perform?
Measure progress towards performance goals through an independent third-party benchmark.
Rank the performance of wind projects to identify which to target for improvement.
Anticipate equipment failures based on historical data.
Renewable Power Plant Benchmarking: Fleet Operations Case Study (5:47)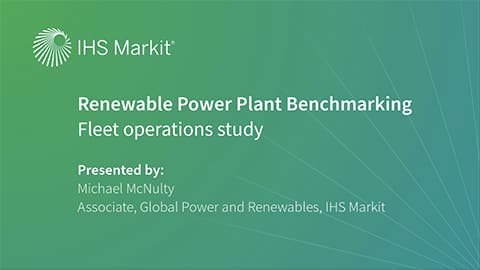 Webinar: Wind O&M Benchmarking Service Overview (45:24)