Achieve significant cost savings with a data-driven buying strategy.
Do you have the right global market insight to capitalize on pricing trends?
Designed for electronics manufacturers, this service provides forecasts and cost models for inputs used across the technology supply chain, including metals and wire, plastics, rare earths, and equipment. For more than 40 years, our team has assisted the purchasing community with critical data, expert insight and proven forecasting models on the world's technology input markets and the key factors that drive them. Find long-term price forecasts for your high-tech input costs, including coverage of more than 1,000 concepts across more than 60 countries.  
Procurement officers use this service to:
Leverage more accurate price estimates than broad inflation rates or historical trends
Monitor prices and pinpoint the best times to make key purchases
Track production costs and evaluate supplier margins to negotiate smarter
Negotiate contract escalation clauses based on IHS escalation rates and prices
Benchmark purchasing performance
Prepare budgets and financial reviews based on accurate forecasts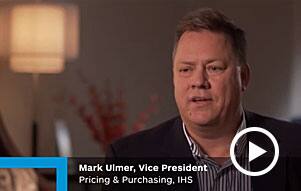 IHS Pricing & Purchasing Mark Ulmer
explains how procurement has evolved
over the last 10 years