Buy smarter and drive bottom-line results.
In these times of market volatility and economic uncertainty, can your company afford not to have critical supply chain insights?
Turn to IHS Markit Pricing & Purchasing for trusted forecasts and cost models covering key energy market costs and integral commodity inputs. For more than 40 years, our team has assisted the purchasing community with critical data, expert insight and proven forecasting models on the world's energy markets and the key factors that drive them.
Cost estimators, strategic planners and sourcing and supply chain professionals leverage this service to:
Understand supplier cost structures and empower contract negotiations
Monitor prices and pinpoint the best times to make key purchases
Benchmark prices and assess purchasing performance
Prepare budgets and financial reviews based on accurate forward-pricing data
Manage onshore and offshore capital investment spend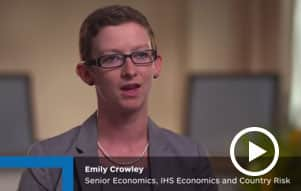 What are the labor challenges facing the oil and gas industry? IHS Markit Senior Economist Emily Crowley explains in this brief video.