Creating a competitive advantage by managing costs effectively.
Are you using the industry's leading cost and sourcing insight to drive major business decisions?
Whether you are constructing a chemical plant or sourcing materials for manufacturing operations, IHS Pricing & Purchasing can help you optimize your procurement process. For more than 40 years, our team has assisted purchasing and cost estimation professionals with critical data, expert insight and proven forecasting models. Rely on our detailed industry analysis, custom cost tools and commodity price forecasts to support your capital investments worldwide.
Cost estimators, contracting professionals, and procurement officers leverage this service to:
Analyze capital project costs up to 10 years in the future
Monitor prices and pinpoint the best times to make key purchases
Negotiate contract escalation clauses
Track prices to evaluate purchasing performance
Compare multiple capital investment scenarios and cost-reduction strategies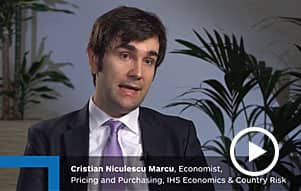 What is the Materials Price Index, and why is it important? IHS Pricing & Purchasing Economist Christian Niculescu-Marcu explains in this brief video.