Find timely and accurate international trade statistics for 98% of the world's import and export merchandise trade
Global Trade Atlas (GTA) is the market-leading solution for access to a comprehensive view of global trade data in every commodity at the most detailed level of harmonized system code (HS code). GTA encompasses dependable bilateral trade data for 101 countries and annual data for close to 200 countries, based on official imports and exports statistics.
Since each country uses different reporting methodologies and currencies for merchandize trade, collecting and collating a world trade database through other means would be extremely time-consuming, difficult and prone to the risk of errors.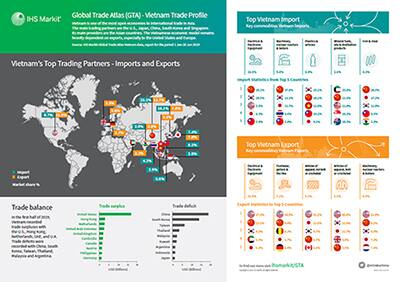 View Infographic: Global Trade Atlas (GTA) - Vietnam Trade Profile
GTA key features
Macroeconomic indicator to assess Commodity, Sector and Country impact monthly
Visibility of traded commodities: Quantities, Total Values and Unit Values
Additional Data Fields

Monthly trade flows per port
Regional regime,
Transport modes
Re-export
Port
State
Customs District
Province
Regional regime
US NAICS

Currency and Unit conversions
In-depth research across disparate data sources
Repeatable saved reports
User-defined commodity groups and locations
Data sources certified to ISO9001:2015.
Our customers in Consulting Firms, Government, Academic, Finance, Multinational Business, Research and Trade Associations confidently rely on GTA for comparable, dependable and easy-to-use global trade information from a single service. Many of our customers also use the Global Trade Atlas in combination with
GTA Forecasting, which identifies trade and transport opportunities with access to long-term trade and transportation data outlooks for 106 countries and regions, across 270 commodities and 16 trade concepts.
PIERS, which provides bill-of-lading level import and export data of the US and 14 international countries .