Set the optimal pharmaceutical product price and identify pricing opportunities across the product life cycle
Pressed to make informed global pharmaceutical pricing decisions? Need to negotiate or defend the price and reimbursement of your product, or explore pricing strategies and opportunities?
POLI is the leading global pharmaceutical pricing database trusted by pricing executives, payors and associations around the world. This highly intuitive tool and data browser allows you to make one-click comparisons of drug prices, costs, launch timelines and reimbursement across 80 countries. With advanced business reporting tools and analytics, POLI provides unparalleled insights into key pricing drivers, impact of generics, biosimilars and parallel trade, launch sequence analysis, pricing opportunities, and defensive pricing strategies.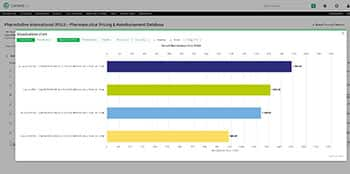 POLI can be used to:
Analyze and monitor the competitive pricing environment
Determine and optimize initial pricing and launching sequence
Determine optimum post-Loss of Exclusivity (LoE) strategy and pricing opportunities
Support dossier submissions and pricing negotiations
Assess business impact of International Reference Pricing (IRP) and other P&R events
View aggregate indicators and analytics, broken down by therapeutic class or product classification
Compare and chart pharmaceutical prices and costs at current prices or over time
Improve/compare market access and time-to-market strategies
Create strategic pharmaceutical pricing, launch sequence and IRP models