Drive strategic decisions with a full understanding of wage and productivity differentials.
Do your strategic manufacturing or sourcing plans factor in labor market conditions such as wage rates, labor supply and productivity?
Rely on Pricing & Purchasing from IHS Markit for accurate wage forecasts across more than 50 countries. For over 40 years, our team has assisted the purchasing community with critical data, expert insight and proven forecasting models on the world's labor markets and the key factors that drive them. Leverage long-term forecasts for manufacturing wages, construction and mining wages, industry-specific wage rates, skilled versus unskilled occupations, productivity, exchange rates and more.
Strategic planners, procurement officers and cost estimators leverage this service to:
Access more accurate compensation estimates than broad inflation rates or historical trends
Determine future labor market conditions by country
Benchmark labor costs by industry and occupation
Make strategic sourcing decisions
Control costs and maintain an adequate labor supply over the life of a project or operations
Anticipate wage trends and their key drivers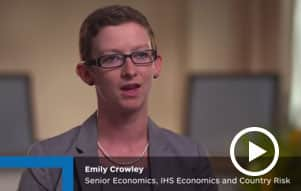 Senior Economist Emily Crowley discusses labor challenges in the oil and gas sector