How many vehicles were sold last year?
Automotive OEMs, national sales companies and their dealers need accurate vehicle market data to gauge their success and benchmark against competitors. Automotive Market Reporting provides several hundred million new and used vehicle registrations, vehicles-in-operation (VIO), and owner demographics in a single web-based platform so you can easily assess your market share anywhere in the world. Integrate proprietary data and visualize your markets with dynamic tables, graphs, maps and dashboards. Issue reports with automatically refreshed data each month. With simultaneous enterprise-wide access to the tool, your teams can achieve consistent reporting and boost operational efficiencies.
Subscribe to IHS Markit today to:
Understand brand/dealer selling patterns
Identify key trends and hidden opportunities
Develop targeted marketing strategies
Plan future parts inventory
Boost revenues from new and used car sales and services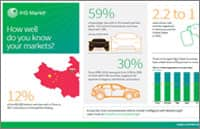 Download Infographic How well do you know your market?