Customer Logins
Obtain the data you need to make the most informed decisions by accessing our extensive portfolio of information, analytics, and expertise. Sign in to the product or service center of your choice.
Customer Logins
Whether securing scarce elements, trading in specialty chemicals or researching fuels of the future, the mining industry faces significant challenges.
Maximize procurement savings for ferrous and non-ferrous metals
Understand supplier cost structures, reduce costs and expand margins.
Economic and country risk services for the mining industry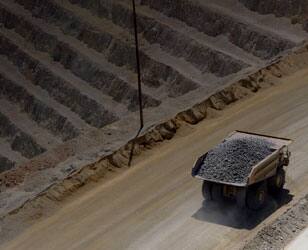 Keep pace with the global mining chemicals market
Find IHS Metals & Mining Industry Products and Solutions
Jane's Defence: Air Platforms Module Understand airborne threats, opportunities and capability This information resource combines the three...

Jane's Defence: C4ISR & Mission Systems Module Master the information component of the battle space C4ISR & Mission Systems combines information...

Jane's Defence: EOD & CBRN Module EOD & CBRNE Defence Module from Jane's by IHS Markit provides information on the world's chemical, biological...

Jane's Defence: Land Module Strengthen your military land defense positioning This comprehensive resource combines all Jane's military land-based...

Jane's Defence: Land Platforms Module Anticipate land defense threats and opportunities This comprehensive resource combines all products devoted...

Jane's Defence: Platforms Module Maintain strategic defense platform advantages This comprehensive resource combines all Jane's products on...

Jane's Defence: Sea Module Bolster sea-defense decisions This valuable resource provides access to all Jane's military naval and military sea-defense...

Jane's Defence: Sea Platforms Module Ensure sea-defence platform strength This resource combines Jane's military sea-defence data and analysis...

Jane's Defence: Weapons Module This powerful resource provides a complete tri-service, joint and strategic reference portfolio of military weapons...

Updated daily, OHSIS delivers regulations, standards, best practice and guidance documentation. Key areas addressed include health - safety...

Jane's Aero Engines Assess current airborne propulsion technologies and capabilities This comprehensive resource provides detailed information...

Jane's Weapons: Air-Launched Understand air-launched weapons threats Access in-depth data on weapons carried on the world's air platforms. Technical...

Jane's Weapons Ammunition Identify, procure and counter worldwide ammunition This guide combines detailed technical information with data tables...

Jane's Land Warfare Platforms: Armoured Fighting Vehicles Understand land threats and maintain capability This information resource delivers...

Jane's Land Warfare Platforms: Artillery and Air Defence Understand threats and maintain capability advantage This information resource profiles...

Jane's C4ISR & Mission Systems: Joint & Common Equipment Assess networked warfare capabilities This detailed reference resource covers programme...

Jane's Fighting Ships Identifying naval warships is as easy as 1, 2, 3 Do you need a resource for naval battleship identification training?...

Jane's Flight Avionics Assess avionics systems and develop capability This comprehensive reference details flight avionics control and related...

Jane's Weapons: Infantry Gain a global competitive edge Gain access to information on military infantry weapons—in development, in production...

Jane's Land Warfare Platforms: Logistics, Support & Unmanned Maintain capability and discover opportunities This information resource details...

Jane's Weapons: Naval Drive critical naval weapons decisions This comprehensive reference provides information on weapons in development, in...

Jane's Weapons: Strategic Sharpen your strategic defense solutions This resource provides comprehensive, credible and up-to-date information...

Jane's Land Warfare Platforms: Firepower, Survivability & Mobility Develop capabilities and identify upgrade opportunities Mirroring the 'iron...

Jane's Unmanned Maritime Vehicles Identify unmanned underwater vehicle opportunities and threats Leverage data on unmanned underwater vehicles...

Jane's All the World's Aircraft: In Service Gauge airborne capabilities, threats and opportunities This resource provides detailed insights...

Jane's All the World's Aircraft: Unmanned Create capability advantage and business development success This comprehensive reference covers all...

Jane's World Defence Industry Sharpen your competitive intelligence World Defence Industry provides detailed uniform comparisons of the major...

Jane's Defence Industry & Markets Intelligence Centre Jane's by IHS Markit analysts forecast that competition within the aerospace and defence...

Jane's Offsets Advisory Module Jane's Offsets Advisory Module from IHS Markit is a specialist resource that delivers in-depth, actionable insight...

Jane's Defence Industry Base your decisions on the latest intelligence Need a comprehensive view of international defence? Want to know about...

Jane's Defence Weekly Subscribe today! Jane's Defence Weekly is the must-have source of global news, analysis and events in the aerospace and...

Jane's Defence News Module The Defence News Module offers the full suite of Jane's by IHS Markit world leading defense news offerings, including...

IHS Janes International Defence Review brings you the latest news on defence technologies, equipment and systems for air, land and sea.

Jane's Navy International Subscribe today! Jane's Navy International is the must-have source of global news, analysis and events in the naval...

Jane's Defence Procurement Intelligence Centre Match equipment and capabilities with market opportunities Need timely military procurement intelligence?...

Jane's Defence Sector Budgets Jane's Defence Sector Budgets from IHS Markit delivers a top-down view of procurement and RDT&E budgets by market....

Jane's CBRN Response Handbook Optimize CBRN incident preparedness Need to establish CBRN response plan procedures? Understand the latest best...

Jane's Security: Country Risk Module Sentinel Country Risk Assessments provide subscribers with the most current, in-depth and impartial analysis...

Jane's Security Intelligence Solutions Counter security threats Need the big picture on conventional and asymmetric threats? Need to deliver...

Jane's Security: Military Capabilities Module Jane's Security: Military Capabilities Module from IHS Markit provides comprehensive reference...

Jane's World Air Forces Measure air domain threats This intelligence resource delivers country-by-country assessments of national airborne capabilities...

Jane's World Armies Quantify ground attack threat scenarios This intelligence resource delivers country-by-country order of battle (OOB/ORBAT)...

Jane's World Navies Calculate the naval threat This intelligence resource compares military capabilities of global navies by country, with data...

Jane's Country Risk Daily Report Get essential context on worldwide security events This online resource is designed to help security analysts...

Jane's Security: News Module Jane's Security News Module by IHS Markit provides international security news, analysis, insight and context....

Jane's Intelligence Review Subscribe today! Jane's Intelligence Review is the must-have source of international security news and analysis...

Jane's Transport Library Optimize transportation operations and planning Do you need to manage air, rail and sea transport operations? Procure...

Jane's Urban Transport Systems Develop innovative and effective transport networks This resource provides details on city transport systems...

Haystack® Gold Drive supply chain savings, efficiency and risk mitigation. Haystack® Gold is the leading defense parts and logistics management...

Jane's Satellite Imagery Analysis A new perspective on national security issues This satellite imagery analysis resource delivers expert image-led...

Jane's Intelligence Unit Open source assessments of the global threat environment tailored to you and your organisation's needs The Jane's Intelligence...

Vehicle Market Analysis: Registrations and Vehicles-in-Operation Measure your market performance with registered vehicles and vehicles-in-operation...

Vehicle Recall Owner Identification Services Maintain customer loyalty and limit legal liability This suite of services helps you implement...

IHS Automotive Component Forecasts and Analysis provide automotive suppliers and OEMs with timely and reliable component market data and forecasts....

Sizing Aftermarket Potential Via PARC/Vehicles-in-Operation Let vehicle registrations drive your parts production strategies Need to validate...

The IHS Automotive Medium- and Heavy-Commercial Vehicle Industry Forecast is the trusted source for independent insight and intelligence on the...

VIN Services Track down information about specific vehicles Need to certify VIN and interpret the information? These automotive intelligence...

E-Mobility Service Manage all facets of the Hybrid and Electric Vehicle (EV) market Do you need real-time data on the global electric vehicle...

Light Vehicle Sales Forecasts Inform your long-term Light Vehicle strategic planning Need to test your market assumptions? Understand competitive...

Light Vehicle Production Forecasts Maximize opportunity targeting and understand production strategies Do you need to identify new opportunities?...

Light Vehicle Engine Forecasts Stay current with powertrain developments and innovations Need to make timely engine production decisions? Track...

Light Vehicle Transmission Forecasts Keep pace with the rapidly evolving powertrain industry Do you need to understand the latest technology...

Alternative Propulsion Forecast Tackle the challenges of hybrid and electric propulsion systems Aiming to understand this rapidly evolving industry?...

IHS Piper Increase revenue and decrease costs with whole system analysis Are you using multiple oil modeling and gas forecasting software packages...

Medium- and Heavy-Commercial Vehicle Model Production Forecast Stay ahead of commercial vehicle market model developments Do you need to assess...

IHS Automotive offers the most comprehensive technical and geographic coverage of current and future medium-heavy engines.

Dealer Territory Potential and Marketing with Territory Pro Improve automotive dealer sales performance Need timely analysis of local dealer...

Commercial market performance and marketing with TIPNet Target commercial vehicle opportunities Need data on commercial vehicle inventory? Need...

Custom Market Reports and Data Feeds Understand your competitive environment Need to understand how automotive industry dynamics affect your...

IHS Evolution software helps you compare and select the best tight and shale gas development plan, using analytical reservoir modeling and simple...

Plastics & Polymers Unlock growth opportunities in shifting plastics & polymers from IHS Markit markets The global chemical industry's premier...

Chemical Market Advisory Services Know when the market moves to make better decisions Whether you manufacture, sell, buy, trade or invest in...

Olefins & Derivatives Keep pace with the rapidly changing global olefins & derivatives from IHS Markit markets. The global chemical industry's...

Directory of Chemical Producers® IHS Directory of Chemical Producers (formerly the SRI Consulting Directory of Chemical Producers) offers a...

Chemical Consulting: Litigation and Expert Witness Highly credible, authoritative and persuasive expert testimony and analysis can be crucial...

Renewables Consulting Chemical Consulting: Renewables assists clients with economic, commercial and regulatory issues surrounding environmental...

Chemical Consulting: Strategy and Business Planning Deep insight and robust analysis, provided by highly credible and experienced consultants...

Chemical Consulting: Technology Chemical Consulting: Technology assists clients with critical technology decisions. These decisions often hold...

Chemical Consulting: Transaction and M&A Support Robust company, market and industry analysis, authored by highly credible and experienced consultants...

Chemical Week Chemical Week is the world's leading news source for chemical industry executives and professionals around the globe. With a tradition...

Asia Aromatics Chemical Market Advisory Service: Asia Aromatics (formerly CMAI Asian Aromatics Market Advisory Service) assists clients with...

Europe Aromatics Chemical Market Advisory Service: Europe Aromatics assists clients with the complex tasks of tracking, evaluating and forecasting...

Global Nylon Fibers & Feedstocks Chemical Market Advisory Service: Global Nylon Fibers & Feedstocks report (formerly CMAI Nylon Feedstocks &...

Global Polyester Fibers & Feedstocks Chemical Market Advisory Service: Global Polyester Fibers & Feedstocks (formerly CMAI Polyester Feedstocks...

IHS WellTest Thoroughly understand your reservoir and its production potential. Is your reservoir producing to its full potential? WellTest...

Aromatics & Fibers Keep pace with the global aromatics & fibers markets The global chemical industry's premier source for historical and forecast...

North America Aromatics Chemical Market Advisory Service: North America Aromatics provides critical market information for benzene, toluene...

China Chlor-Alkali & PVC Chemical Market Advisory Service: China Chlor-Alkali & PVC (formerly CMAI China Chlor-Alkali/PVC Market Advisory Service...

Global Bleaching Chemicals Access the authority on bleaching chemical prices. Chemical Market Advisory Service: Global Bleaching Chemicals delivers...

Global Chlor-Alkali Chemical Market Advisory Service: Global Chlor-Alkali (formerly CMAI Global Chlor-Alkali Market Report and Harriman Chemsult...

Global Soda Ash Chemical Market Advisory Service: Global Soda Ash (formerly CMAI Global Soda Ash Market Advisory Service) delivers comprehensive...

Global Vinyls Locate accurate, reliable data for the world's vinyl chloride markets with Chemical Market Advisory Service: Global Vinyls (formerly...

Global Methanol Chemical Market Advisory Service: Global Methanol (formerly CMAI Methanol Market Advisory Service) provides weekly market updates...

Global Acetone Chemical Market Advisory Service: Global Acetone (formerly CMAI Acetone Market Report) offers an integrated view of the world's...

Global Acetyls Chemical Market Advisory Service: Global Acetyls (formerly CMAI Global Acetyls Market Advisory Service) delivers monthly price...

Europe & Middle East Light Olefins Chemical Market Advisory Service: Europe & Middle East Light Olefins from IHS Markit (formerly CMAI Europe...

Asia Light Olefins Chemical Market Advisory Service: Asia Light Olefins from IHS Markit (formerly CMAI Asian Light Olefins Market Advisory Service)...

Global C4 Olefins & Elastomers Chemical Market Advisory Service: Global C4 Olefins & Elastomers from IHS Markit (formerly CMAI C4s & Elastomers...

Global Tire Type Indices Chemical Market Advisory Service: Global Tire Type Indices from IHS Markit delivers a monthly index for historical...

North America Light Olefins Chemical Market Advisory Service: North America Light Olefins from IHS Markit (formerly CMAI Monomers Market Report...

Asia-Middle East-and India Plastics and Polymers Chemical Global Plastics & Polymers Asia, Middle East & India Weekly - Market Advisory Service...

China Polyolefins Chemical Market Advisory Service: China Polyolefins (formerly CMAI China Polyolefins Market Advisory Service) provides a comprehensive...

Global Plastics and Polymers Chemical Market Advisory Service: Global Plastics & Polymers from IHS Markit (formerly CMAI Global Plastics & Polymers...

Europe Plastics and Polymers Chemical Market Advisory Service: Europe Plastics & Polymers from IHS Markit (formerly CMAI European Plastics &...

Global Engineering Resins Chemical Market Advisory Service: Global Engineering Resin from IHS Markit (formerly CMAI Global Engineering Resins...

Acetaldehyde Chemical Economics Handbook Published December 2016 Acetaldehyde is an important chemical intermediate. Pyridines, pentaerythritol...

Global PET Stream Chemical Market Advisory Service: Global PET Stream from IHS Markit (formerly CMAI PET Stream Market Advisory Service) offers...

Acetic Acid Chemical Economics Handbook Published November 2018 Acetic acid is a commodity chemical produced primarily by the carbonylation...

Acetic Anhydride Chemical Economics Handbook Published November 2018 Acetic anhydride is a colorless liquid with a pungent odor and strong lachrymatory...

Acetone Chemical Economics Handbook Published August 2018 About 96% of the world's acetone production is as a by-product of phenol production....

Acetonitrile Chemical Economics Handbook Published December 2017 INEOS in the United States, Asahi Kasei in Japan, and CNPC Jilin Chemical Group...

Acetylene Chemical Economics Handbook Published January 2017 Acetylene is used as an intermediate in chemical manufacture and as an industrial...

Acrylamide Chemical Economics Handbook Published January 2018 Acrylamide is a water-soluble monomer, industrially produced by the hydration...

Acrylic Acid and Esters Chemical Economics Handbook Published September 2017 Acrylic acid and esters are versatile monomers used as building...

Almost 60% of world acrylic fiber production is concentrated in Asia, with 37% in China alone.

Acrylic Surface Coatings Chemical Economics Handbook Published May 2018 Acrylic surface coatings are used in all three of the paint and coatings...

Acrylonitrile-Butadiene-Styrene Resins (ABS) Chemical Economics Handbook Published May 2018 Acrylonitrile-butadiene-styrene (ABS) is the largest-volume...

Activated Carbon Chemical Economics Handbook Published June 2017 Activated carbon is an amorphous form of elemental carbon prepared by the destructive...

Adipic Acid Chemical Economics Handbook Published May 2019 Adipic acid is one of the most important of the commercially available aliphatic...

Air Separation Gases Chemical Economics Handbook Published March 2019 The industrial gas industry has been at the forefront of consolidation...

Alkyd/Polyester Surface Coatings Chemical Economics Handbook Published December 2016 Alkyd surface coatings continue to be one of the most highly...

Alkyl Acetates Chemical Economics Handbook Published October 2018 The C1 -C4 alkyl acetates discussed in this report include methyl acetate...

Alkylamines (C1-C6) Chemical Economics Handbook Published December 2017 Amines are a versatile class of compounds used in organic synthesis....

Linear and Branched Alkylbenzenes Chemical Economics Handbook Published May 2018 Linear alkylbenzene (LAB) is produced by reacting benzene with...

Aluminum Chemicals Chemical Economics Handbook Published October 2017 The principal products covered in this report are alumina trihydrate (ATH)...

Amino Resins Chemical Economics Handbook Published May 2017 There are two types of amino resins: urea-formaldehyde (UF) and melamine-formaldehyde...

Ammonia Chemical Economics Handbook Published July 2017 Ammonia is the basic building block of the world nitrogen industry; consumption of ammonia...

Ammonium Nitrate Chemical Economics Handbook Published July 2016 Ammonium nitrate (AN) had been a popular fertilizer since the 1920s, but hit...

Ammonium Phosphates Chemical Economics Handbook Published November 2016 Ammonium phosphates are inorganic salts derived from the reaction between...

Ammonium Sulfate Chemical Economics Handbook Published June 2016 Ammonium sulfate is used almost exclusively as a fertilizer material; minor...

Aniline Chemical Economics Handbook Published June 2019 Aniline consumption for the production of MDI accounted for 95% of total aniline demand...

Animal Feeds: Nonprotein Nitrogen (NPN) Supplements Chemical Economics Handbook Published April 2019 Fluoroelastomers are fluorine-containing...

Animal Feeds: Phosphate Supplements Chemical Economics Handbook Published 15 March 2019 The increasing world demand for protein has resulted...

Aromatic Ketone Polymers Chemical Economics Handbook Published May 2018 Aromatic ketone polymers (AKPs), sometimes referred to as polyaryletherketones...

Benzoic Acid Chemical Economics Handbook Published November 2017 In 2017, about one-third of benzoic acid consumption went into the production...

Benzyl Chloride Chemical Economics Handbook Published September 2018 Benzyl chloride is consumed in the production of benzyl alcohol (accounting...

Biodegradable Polymers Chemical Economics Handbook Published June 2018 Biodegradable polymers, as defined in this report, are bio-based or synthetic...

Biodiesel Chemical Economics Handbook Published April 2018 Biodiesel is a renewable fuel made from vegetable oils or animal fats. These esters...

Bisphenol A Chemical Economics Handbook Published November 2018 The overall health of the world economy will continue to play a major role in...

Boron Minerals and Chemicals Chemical Economics Handbook Published November 2018 This report is divided into two sections—boron mineral markets...

Bromine Chemical Economics Handbook Published October 2017 Bromine is used in numerous inorganic and organic compounds. Since it is an element...

1,4-Butanediol Chemical Economics Handbook Published May 2016 China continues to be the world's most active country and has added the most capacity...

Butyl Elastomers Chemical Economics Handbook Published August 2018 Butyl rubber's most outstanding characteristics are its low permeability...

Butylenes Chemical Economics Handbook Published October 2017 Butylenes, also referred to as butenes, are four-carbon mono-olefins that are produced...

C2 Chlorinated Solvents Chemical Economics Handbook Published October 2017 The C2 chlorinated solvents that have major commercial significance...

Calcium Chloride Chemical Economics Handbook Published April 2019 Calcium chloride is a salt that can be obtained from natural brines as a by-product...

Calcium Carbide Chemical Economics Handbook Published March 2017 Calcium carbide is an inorganic compound with the following primary commercial...

Caprolactam Chemical Economics Handbook 15 February 2019 Abstract Caprolactam is used primarily in the production of nylon 6 fibers and nylon...

Carbon Dioxide Chemical Economics Handbook Published March 2018 Because of its unique properties, carbon dioxide is a versatile compound with...

Carbon Black Chemical Economics Handbook Published December 2017 Carbon black is a form of carbon generally produced by the incomplete combustion...

Cellulose Acetate Fibers Chemical Economics Handbook Published September 2016 Cellulose acetate and triacetate fibers are derived from acetylated...

Carbon Fibers Chemical Economics Handbook Published June 2016 Carbon fibers are used primarily as reinforcing agents in high-performance composites...

Cellulose Acetate Flake Chemical Economics Handbook Published September 2016 Cellulose acetate flake is mostly consumed in one major application—the...

Cellulose Ethers Chemical Economics Handbook Published April 2019 Cellulose ethers are water-soluble polymers produced by the chemical modification...

Chelating Agents Chemical Economics Handbook Published May 2017 This report discusses the applications and major markets for traditional chelating...

Chlorinated Methanes Chemical Economics Handbook Published December 2018 This report covers the four chlorinated methanes: methyl chloride (CH3Cl)...

Chlorinated Polyethylene Resins and Elastomers Chemical Economics Handbook Published March 2018 Chlorinated polyethylene resins and elastomers...

Chlorine/Sodium Hydroxide (Chlor-Alkali) Chemical Economics Handbook Published February 2018 Chlorine and caustic soda (sodium hydroxide) are...

Chlorobenzenes Chemical Economics Handbook Published June 2017 Only three of the many possible products resulting from the chlorination of benzene...

Citric Acid Chemical Economics Handbook Published December 2015 Citric acid is the most widely used food acidulant. The acid and its derivatives...

Controlled- and Slow-Release Fertilizers Chemical Economics Handbook Published June 2018 Controlled-release (CRF) and slow-release (SRF) fertilizers...

Thermoplastic Copolyester Elastomers Chemical Economics Handbook Published December 2017 Thermoplastic copolyester elastomers (TPC) are a class...

Cresols, Xylenols and Cresylic Acids Chemical Economics Handbook Published January 2019. This report covers cresols (o-, m-, and p-), xylenols...

Harmony™ & Harmony Enterprise™ : Well Performance Software Increase productivity with workflows that leverage a full suite of empirical, analytical...

Crude Petroleum and Petroleum Products Chemical Economics Handbook Published March 2018 This report presents an overview of the global supply...

Cumene Chemical Economics Handbook Published May 2018 Cumene is an oily, colorless, flammable liquid with a sharp gasoline-like odor, classified...

Cyclohexane Chemical Economics Handbook Published August 2017 Nearly all cyclohexane is used to make cyclohexanol and cyclohexanone, which...

Cyclohexanol and Cyclohexanone Chemical Economics Handbook Published August 2017 This report primarily covers uncoupled cyclohexanol/cyclohexanone...

Detergent Alcohols Chemical Economics Handbook Published September 2016 Detergent alcohols and their derivatives are widely used as raw materials...

Cyclopentadiene/Dicyclopentadiene Chemical Economics Handbook Published July 2016 Cyclopentadiene and its dimer, dicyclopentadiene (DCPD), are...

Diisocyanates and Polyisocyanates Chemical Economics Handbook Published October 2018 Diisocyanates and polyisocyanates are reactive intermediates...

Dimethyl Terephthalate (DMT) and Terephthalic Acid (TPA) Chemical Economics Handbook Published December 2017 Terephthalic acid (TPA) and dimethyl...

Dimethylformamide (DMF) Chemical Economics Handbook Published January 2018 Dimethylformamide (DMF) is a clear, colorless, water-soluble liquid...

Dyes Chemical Economics Handbook Published July 2018 Dyes are used primarily in textiles and paper. In the past 25 years, the production of...

Elastomers Overview Chemical Economics Handbook Published November 2017 This report is intended to serve as a world overview of elastomer supply...

Epichlorohydrin Chemical Economics Handbook Published September 2018 Epichlorohydrin is a liquid epoxide most frequently manufactured by the...

Epoxy Resins Published September 2018 Epoxy resins are thermosetting resins, meaning that they do not develop useful properties until they are...

Epoxy Surface Coatings Chemical Economics Handbook Published December 2017 Epoxy surface coatings are among the most widely used industrial...

Ethanol Chemical Economics Handbook Published January 2018 Consumption of ethanol as a fuel accounted for 85–90% of total global consumption...

Ethanolamines Chemical Economics Handbook Published February 2018 Worldwide ethanolamines capacity increased moderately during 2012–17, but...

Ethylbenzene Chemical Economics Handbook Published January 2018 Ethylbenzene (EB) is a highly flammable, colorless liquid that has a sweet aroma...

Ethylene Chemical Economics Handbook 15 February 2019 Abstract Ethylene is primarily a petrochemically derived monomer used as a feedstock in...

Ethyleneamines Chemical Economics Handbook Published December 2018 Ethyleneamines are chemicals that contain ethylene (-CH2 CH2 -) linkages...

Ethylene Dichloride Chemical Economics Handbook Published June 2019 Ethylene dichloride (EDC) is used primarily for the production of vinyl...

Ethylene Oxide Chemical Economics Handbook Published October 2018 Ethylene oxide (EO) is a basic chemical produced primarily by the catalytic...

Ethylene-Propylene Elastomers Chemical Economics Handbook Published November 2018 The ethylene-propylene elastomer market is forecast to grow...

Ethylene-Vinyl Alcohol Resins Chemical Economics Handbook Published October 2015 Ethylene–vinyl alcohol copolymer resins (EVOH) are specialty...

Ethyl Ether Chemical Economics Handbook Published December 2017 Ethyl ether, also known as diethyl ether, or often referred to as just "ether,"...

Explosives and Blasting Agents Chemical Economics Handbook Published February 2015 The principal distinction between explosives and blasting...

Fats and Oils Industry Overview Chemical Economics Handbook Published November 2018 Fats and oils are used throughout the world for both food...

Natural and Man-Made Fibers Overview Chemical Economics Handbook Published September 2015 This report presents an overview of the global supply...

Ferric Chloride Chemical Economics Handbook Published May 2019 The primary use of ferric chloride is to remove impurities in water and for wastewater...

Calcium Carbonate, Fine-Ground and Precipitated Chemical Economics Handbook Published December 2018 Calcium carbonate includes natural fine,ground...

Fluorocarbons Chemical Economics Handbook Published September 2017 As a result of the Montreal Protocol and Kyoto Protocol and subsequent amendments...

Fluoroelastomers Chemical Economics Handbook Published April 2019 Fluoroelastomers are fluorine-containing polymers noted for their exceptional...

Fluoropolymers Chemical Economics Handbook Published April 2019 Fluoropolymers are among the most useful modern materials, providing nonstick...

Fluorspar and Inorganic Fluorine Compounds Chemical Economics Handbook Published January 2016 This report covers fluorspar and its major derivative...

Formaldehyde Chemical Economics Handbook Published November 2017 Formaldehyde is the most commercially important aldehyde. Production of urea-...

Formic Acid Chemical Economics Handbook Published December 2016 Formic acid (methanoic acid, HCOOH) is a colorless liquid with a sharp odor....

Fumaric Acid Chemical Economics Handbook Published February 2017 Fumaric acid (trans-butenedioic acid) is a multifunctional chemical with a...

Furfural Chemical Economics Handbook Published March 2016 China is the dominant player in the world furfural market. With 85% of global capacity...

Furfuryl Alcohol and Furan Resins Chemical Economics Handbook Published April 2016 The majority of furfuryl alcohol is used in the production...

Gasoline Octane Improvers/Oxygenates Chemical Economics Handbook Published August 2017 Gasoline octane improvers/oxygenates include three major...

Glycerin Chemical Economics Handbook Published August 2018 Glycerin (glycerine, glycerol, 1,2,3-propanetriol) is a polyhydric alcohol mainly...

Glycol Ethers Chemical Economics Handbook Published August 2017 Over half of all glycol ether consumption (including E-series and P-series)...

Helium Chemical Economics Handbook Published May 2019 The global helium market suffered under massive supply constraints during 2011–13, which...

Hexamethylenediamine/Adiponitrile Chemical Economics Handbook Published May 2019 Adiponitrile(ADN) is a key precursor to hexamethylenediamine...

Polyethylene Resins, High-Density (HDPE) Chemical Economics Handbook Published June 2019 In terms of volume, HDPE is the third-largest commodity...

Sweeteners, High-Intensity Chemical Economics Handbook Published May 2017 High-intensity sweeteners (HIS) are a structurally diverse set of...

Hydrochloric Acid Chemical Economics Handbook Published October 2015 Hydrochloric acid is an integral part of the worldwide chlorine industry....

Hydrocolloids Chemical Economics Handbook Published August 2016 This report provides an overview of the markets for naturally derived hydrocolloids....

Hydrogen Chemical Economics Handbook Published May 2018 Hydrogen is produced in large quantities both as a principal product and as a by-product....

Hydrogen Cyanide Chemical Economics Handbook Published October 2016 Hydrogen Cyanide (HCN) is extremely toxic. At manufacturing plants, extensive...

Hydrogen Peroxide Chemical Economics Handbook Published October 2018 In most markets, hydrogen peroxide functions as a bleach or oxidizer. As...

Hydroquinone Chemical Economics Handbook Published February 2015 World consumption of hydroquinone grew at an average annual rate of almost...

Phosphates, Industrial Chemical Economics Handbook Published February 2016 The industrial phosphate market is a minor but important segment...

Hypochlorite Bleaches Chemical Economics Handbook Published November 2015 Sodium, calcium, potassium, and lithium hypochlorite are strong oxidizing...

Chromium Compounds, Inorganic Chemical Economics Handbook Published December 2018 Global consumption of chromium chemicals, which had been slowly...

Inorganic Color Pigments Chemical Economics Handbook Published June 2015 Since the mid-1990s, the global color pigments market has experienced...

Potassium Chemicals, Inorganic Chemical Economics Handbook Published December 2015 This report covers supply and demand for a number of industrially...

Zinc Chemicals, Inorganic Chemical Economics Handbook Published April 2017 This report covers the major zinc chemicals of commercial importance...

Isophthalic Acid Chemical Economics Handbook Published September 2016 Isophthalic acid is an aromatic dicarboxylic acid industrially produced...

IHS DeclinePlus is an industry-leading software tool focused on Production Analysis, Forecasting & Reserves Evaluation. Learn more.

Isoprene Chemical Economics Handbook Published June 2017 Consumption of high-purity isoprene is dominated by demand for and production of polyisoprene...

Isopropanolamines Chemical Economics Handbook Published February 2018 World consumption of isopropanolamines is forecast to grow at an average...

Isopropyl Alcohol (IPA) Chemical Economics Handbook Published July 2018 There are several grades of isopropyl alcohol (IPA), including industrial/technical...

Lactic Acid, Its Salts and Esters Chemical Economics Handbook Published September 2018 Lactic acid is widely used as an acidulant, flavor enhancer...

Lignosulfonates Chemical Economics Handbook Published October 2016 The two most abundant biopolymers on earth are cellulose and lignin. Both...

Lime/Limestone Chemical Economics Handbook Published March 2019 Lime, or calcium oxide (CaO), is derived through the decarbonation of limestone....

Linear Alkylbenzene Sulfonic Acid (LABSA)/Linear Alkylate Sulfonate (LAS) Chemical Economics Handbook Published June 2018 Linear alkylbenzene...

Linear Alpha-Olefins Chemical Economics Handbook Published March 2017 This report covers supply and demand for linear alpha-olefins (LAOs) with...

Linear Low-Density Polyethylene (LLDPE) Resins Chemical Economics Handbook Published July 2017 First produced by DuPont in 1959 in Canada, LLDPE...

Liquid Crystal Polymers Chemical Economics Handbook Published October 2018 The global electronics/electrical industry accounts for close to...

Lithium, Lithium Minerals, and Lithium Chemicals Chemical Economics Handbook Published March 2018 This report covers primarily lithium carbonate...

Polyethylene Resins, Low-Density (LDPE) Chemical Economics Handbook Published August 2017 The global polyethylene (PE) industry can be characterized...

Magnesium Oxide and Other Magnesium Chemicals Chemical Economics Handbook Published June 2017 This report covers primarily magnesium oxide (also...

Amino Acids Chemical Economics Handbook Published July 2016 This report covers the major amino acids used in animal feed throughout the world....

DL-Malic Acid Chemical Economics Handbook Published February 2017 In 2016, beverages (both liquids and powders, mainly fruit-flavored beverages)...

Melamine Chemical Economics Handbook Published December 2017 Melamine resin properties provide product advantages. These properties include...

Methanol Chemical Economics Handbook Published December 2017 Methanol (or methyl alcohol) is a colorless liquid essentially produced from natural...

Methyl Ethyl Ketone (MEK) Chemical Economics Handbook Published August 2018 Methyl ethyl ketone (also known as MEK or 2-butanone) is a powerful...

Methyl Isobutyl Ketone (MIBK) and Methyl Isobutyl Carbinol (MIBC) Chemical Economics Handbook Published July 2018 Methyl isobutyl ketone (MIBK)...

Miscellaneous Sulfur Chemicals Chemical Economics Handbook Published December 2017 This report reviews the merchant markets for sulfur dioxide...

Ethylene Glycols Chemical Economics Handbook Published March 2018 In the ethylene glycols product group, monoethylene glycol (MEG) is by far...

Monochloroacetic Acid Chemical Economics Handbook Published November 2017 Monochloroacetic acid (MCA) is one of the most important halogenated...

Monosodium Glutamate (MSG) Chemical Economics Handbook Published December 2018 Almost all MSG is consumed in food applications; major end users...

Natural Fatty Acids Chemical Economics Handbook Published June 2018 This report describes fatty acids obtained from the hydrolysis of natural...

Naphthalene Chemical Economics Handbook Published September 2016 Naphthalene is derived from two sources—coal tar and petroleum. In 2015, over...

Natural Gas Chemical Economics Handbook Published October 2018 While world energy demand continues to increase, alternative forms of energy—nonconventional...

Rubber, Natural Chemical Economics Handbook Published November 2018 The shift toward radial tires, which use a higher percentage of natural...

Neopentyl/Polyhydric Alcohols Chemical Economics Handbook Published November 2016 The neopentyl polyhydric alcohols discussed in this report...

Nitrile Elastomers Chemical Economics Handbook Published March 2016 This report focuses on the global market for the major nitrile elastomers....

Nitric Acid Chemical Economics Handbook Published May 2017 World nitric acid consumption has exhibited a steady upward trend since 2000, with...

Nitrobenzene Chemical Economics Handbook Published June 2019 Nitrobenzene is the primary raw material for the production of aniline, which in...

Nitrogen Solutions Chemical Economics Handbook Published September 2016 Urea–ammonium nitrate (UAN) solutions, containing 28–32% nitrogen, account...

Nonene (Propylene Trimer) and Tetramer Chemical Economics Handbook Published September 2015 Propylene trimer and tetramer are oligomers produced...

Nonwoven Fabrics Chemical Economics Handbook Published November 2017 Nonwovens are generally categorized by their use in either disposable (hygiene...

Paraffins (C9-C17), Normal Chemical Economics Handbook Published November 2016 Normal paraffins (n-paraffins) are linear, aliphatic hydrocarbons...

Nylon Fibers Chemical Economics Handbook Published September 2018 Textile and industrial filaments constitute the largest application for nylon...

Nylon Resins Chemical Economics Handbook Published December 2018 Nylons constitute a family of resins, the most important of which are nylon...

Pigments, Organic Color Chemical Economics Handbook Published October 2018 The migration of the pigments business to Asia, particularly China...

Organometallics Chemical Economics Handbook Published March 2016 The main product categories covered in this report are organotins, organoaluminums...

Oxo Chemicals Chemical Economics Handbook Published August 2018 The oxo process or hydroformylation of olefins with synthesis gas is the principal...

Receive supply/demand analysis of current markets for Paint and Coatings Industry Overview, future growth with five-year projections, and historical...

PET Polymer Chemical Economics Handbook Published January 2018 Polyethylene terephthalate, commonly referred to as PET or simply polyester...

Petrochemical Industry Overview Chemical Economics Handbook Published April 2017 In the petrochemical industry, the organic chemicals produced...

Phenol Chemical Economics Handbook Published July 2018 The global phenolic industry has undergone some key changes over the last few years....

Phenolic Resins Chemical Economics Handbook Published September 2018 Phenol-formaldehyde (PF) resins, commonly referred to as phenolic resins...

Phosgene Chemical Economics Handbook Published December 2017 Most phosgene is consumed in the production of p,pʹ-methylene diphenyl diisocyanate...

Phosphorus and Phosphorus Chemicals Chemical Economics Handbook Published February 2017 Elemental phosphorus (P4 ) is the starting material...

Phosphate Rock Chemical Economics Handbook Published October 2018 Phosphorus is the second-most-widely used fertilizer nutrient, after nitrogen...

Plasticizer Alcohols (C4-C13) Chemical Economics Handbook Published July 2018 2-Ethylhexanol (2-EH) and n-butanol continue to account for the...

Plasticizers Chemical Economics Handbook Published May 2018 Flexible polyvinyl chloride (PVC) accounts for 80–90% of global plasticizer consumption....

Plastics Recycling Chemical Economics Handbook Published December 2016 The plastics recycling industry has faced many obstacles in recent years...

Polyamide Elastomers, Thermoplastic Chemical Economics Handbook Published February 2018 Thermoplastic polyamide elastomers (PAE, TPA, TPE-A...

Polyalkylene Glycols Chemical Economics Handbook Published January 2017 Polyalkylene glycols (PAGs ) are used in a wide variety of end-use markets...

Polyamide Resins (Non-nylon types) Chem