Customer Logins
Obtain the data you need to make the most informed decisions by accessing our extensive portfolio of information, analytics, and expertise. Sign in to the product or service center of your choice.
Customer Logins
Understanding the Global Petrochemical Industry - Calgary
Three-day course by IHS Markit, Chemical and Energy Training
Taught by globally renowned industry expert, Dr. Jeffrey S. Plotkin, featuring regional guest speakers, new pre-learning online module and one-month premium subscription to Chemical Week Magazine (open to new subscribers only).
Gain the critical information and insights on industry fundamentals, changing feedstock slates, process technology, market dynamics, and profitability drivers – to help you make informed business decisions.
This course is designed for both technical and non-technical industry participants, new to the industry as well as those that desire a refresher course. Attendees represent a wide range of job functions and industries.
Featuring a special session on Wednesday June 27:
Global Petrochemical Market Outlook: Can the "Alberta advantage" be revived?
Balancing the advancement of modern living with environmental care and concern – How can Western Canada petrochemical industry leverage its competitive hydrocarbon position to stimulate the regional economy and at the same time play a leading role in sustainable development of the chemical industry.
Basic energy sources, including crude oil and natural gas, provide the essential raw materials needed to produce higher-value chemicals and plastics, which represent key building blocks from which a wide variety of durable and non-durable consumer goods are manufactured. If you consider items we encounter every day such as the clothes we wear, our modes of transportation, construction materials, food and beverage packaging and a variety of household goods, chemicals and plastics provide the fundamental building-blocks that enable todays modern living.
Demand for chemicals and plastics are driven by global economic growth, which is directly linked to the demand for consumer goods. The ability to align investments in new capacity with global demand growth determines whether the market is in a period of over-or-under-supply, which has a direct impact on industry profitability. The development of significant imbalances between available capacity and demand growth gives the chemical industry its cyclical nature. Managing through profit cycles in the chemical industry has been and continues to be a never-ending challenge. In addition, the global petrochemicals industry faces unique challenges at a time when public scrutiny of fossil fuels has never been more intense. How will the industry respond to environmental concerns, manage risks associated with market, political and regulatory uncertainties and more clearly define its identity as an enabler of modern living and essential to the advancement of humankind past-present-and-future.
Improve your knowledge of petrochemicals with Dr. Jeff Plotkin's course.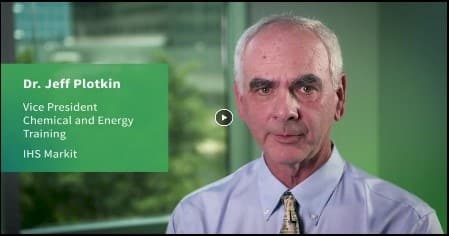 "18" CPE credits available. For questions or more information, please contact us.