Southeast Asia Editorial Achievements - 2016
The Southeast Asia regional team is based in Singapore and combines upstream industry experience from Chevron, Marathon, Petronas Carigali and Shell. Improvements in our coverage of exploration drilling, seismic survey, contract, field development and production activities have been sustained. The team continued to actively engage customers with over 60 site presentations in the region. The team has also sustained visibility and active participation in key industry events. Well-received presentations were made at several IHS Markit organized technical forums.
With companies reducing capital expenditure in 2016, we saw an overall drop in the E&P activities in the region.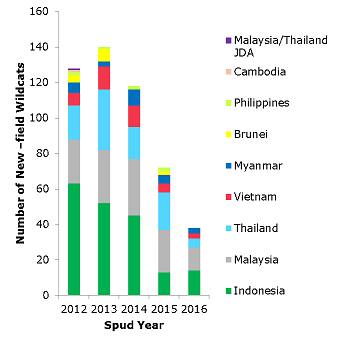 New Field Wildcat Drilling, Southeast Asia

Exploration drilling continued its decline due to the low oil price environment coupled with regional exploration results and likewise above-ground issues impacting a few countries (Indonesia and Thailand). High impact exploration wells have likewise been monitored in detail for Indonesia, Vietnam, Malaysia and Myanmar.
Seismic survey acquisition likewise declined. Key offshore 3D surveys in Myanmar, which are firm commitments from the recently signed PSCs, were covered in a timely manner. Similarly key surveys in offshore Malaysia, Indonesia and Philippines (multi-client) were tracked.
Average discovered volumes remain to be small with potential reserves upgrade in some of the discoveries. Newly discovered resources in the region were dominantly gas, as the majority of oil discoveries were smaller than 5 MMboe recoverable. The top discoveries in 2016 were drilled by POSCO Daewoo and Woodside in offshore Myanmar. These discoveries confirmed the gas potential of the Pliocene turbidite play in deepwater Rakhine Basin. Other mid-sized to small gas discoveries were made by Vietsovpetro in the Nam Con Son Basin and Repsol in Northwest Sabah Province, while PETRONAS MPM made a new oil and gas discovery in an open acreage in offshore Malay Basin.
All bid rounds, block promotion, joint study areas and new contract awards were covered and likewise reported within 1-2 days of announcement and 7 days of database update. In 2016, contract awards further declined and were mostly located in proven basins. PTTEP became a new player in Sarawak with the award of SK-410. In Indonesia, a new shale PSC was awarded in onshore Kalimantan to PT Adaro Energy.
Efforts were also made to improve coverage of asset sales/farm-in opportunities by strengthening links with the industry. Focus was also made to capture key company deals. Streamline, holding and growth strategies were adopted by the players in the region depending on their financial position and portfolio optimization. We saw new players like DYAS, Hibiscus, Mandala, Hyoil and Andalas Energy acquire acreage in the region.
In 2016, several assets were put onstream like Shell's Malikai field (Malaysia) which produces from a tension leg platform, the first one built in Malaysia. Other key assets put onstream were NC3 (Petronas) in Malaysia, Maharaja Lela South (Total) in Brunei, Thien Ung (Vietsovpetro) in Vietnam, Bangka (Chevron) in Indonesia, Donggi (Pertamina) in Indonesia, Kerendan (Ophir) in Indonesia and Akatara (HExindo) in Indonesia.
More than 120 A0 maps were generated and published in GEPS. All maps utilized new mapping software and followed new mapping standards. Additional maps were generated on activity strategy, energy security and gas opportunity.
Database Enhancements – 2016
Basin Monitors – Reed Bank and Mergui Terrace Basin Monitors newly completed and Tatau Province, Rakhine, Malay, West Natuna, Nam Con Son, East Natuna and West Luconia Basin Monitors completely reviewed
Giant Fields – Completed 2 Giant (2P EUR >=500MMboe) Field Reviews which included a full revision of remarks, reserves, development, production volumes and IOR/EOR techniques
Indonesia – Updated 26,000 wells with improved datum information, now more than 95% Indonesia wells have reliable/assumed datum
Philippines – Updated datum in 65 wells
Indonesia – Entered 1 new contract, awarded as result of the First Unconventional Oil & Gas Bid Round 2015 one day after the official announcement
South East Asia – Updated 23 block outlines updated with official and accurate coordinates
South East Asia – Updated 430 blocks with total area re-calculated and updated
Philippines – Updated 34 contracts with Oil & Gas Production bonus payment
South East Asia – Updated 50 contracts with terms execution
South East Asia – Final content updated in 122 development wells and status updated in 153 development wells, with a further 35 wells entered in 6 fields
Thailand – Updated 138 development well locations and 12 platforms in the Bongkot and Arthit fields
Bid Rounds – 100% success tracking 2016 bid round opportunities in Indonesia and Malaysia. While little information is available ahead of time, the GEPS team managed to gather and summarize potential blocks to be offered in the upcoming round. Open blocks are updated as well in the database
For information relating to data improvements in 2015, download our Southeast Asia Data Enhancements 2015 Summary