Indian Sub-Continent Editorial Achievements – 2016
Discovered Small Fields Bid Round – The Indian government launched the bid round from 25 May to 21 November 2016 offering 67 small size fields which were grouped into 46 contract areas (see table below). Timely and detailed coverage of the bid round was provided in GEPS, with a general article about the bid round with fields summary table and location map, and a further 46 articles about individual contract areas. Likewise we carried out data projects involving updating the shapes of offered blocks, wells information and field's reserves in the database. The bid blocks were entered within five working days after the launch of bid round and were subsequently updated with bids information at the close of bid round.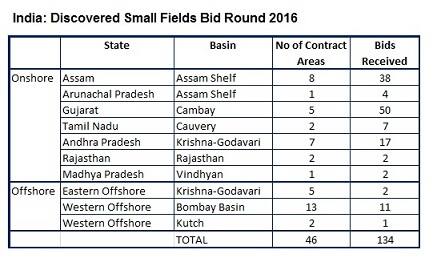 India - Exploratory Drilling – Exploratory drilling in the country during 2016 has mainly been carried out by ONGC which is a state owned company and we provided very good coverage, especially for discovery wells, in our GEPS report. The company has so far been rewarded with over 20 discoveries during 2016 in different parts of the country including Kutch Offshore, Mumbai Offshore and Krishna-Godavari Offshore regions. Other companies which were active in exploratory drilling include Oil India Ltd (OIL), Mercator Petroleum, GAIL India, Bharat Petro and Sintex Oil & Gas and their activities were also covered in detail in GEPS.
India - Policy Decisions – In March 2016, the Indian government announced a major shift in policy with the introduction of 'Hydrocarbon Exploration Licensing Policy (HELP)', which replaced the existing New Exploration Licensing Policy (NELP). The main features of HELP policy include Open Acreage Licensing Policy (OALP), uniform licensing system, revenue sharing model, concessional royalty regime for offshore discoveries and freedom of pricing and marketing. Details about the new policy were provided in GEPS. Under OALP a company can apply for available block anytime during the year. The uniform licensing system allows exploration and production for both, conventional and unconventional, hydrocarbons in a single licence. It was subsequently reported in December 2016 that the government has finalised blocks which are likely to be offered in March 2017 under this new policy.
Pakistan - Exploratory drilling – Exploratory drilling has recently been very active in the country and we provided complete coverage of wells drilled in the country. 24 new hydrocarbon discoveries are so far known to have been made during 2016 by different companies including OGDCL (8), United Energy (7), PPL (3), MOL (2), PEL (2) and Mari Petroleum (2), and we provided details about each discovery in GEPS and in database including location, depth and test results. The unsuccessful exploratory wells and appraisal wells are also completely covered in GEPS and database.
Sri Lanka - Licensing Activities – Total S.A signed the Joint Study Agreement (JSA) with Sri Lankan government on 18 February 2016 for the exploration of oil and gas in two ultra-deep water blocks, JS-5 and JS-6, along the eastern offshore region of the country. We provided full coverage in GEPS from the launching of JSA process till the award of blocks.
Data Enhancements – 2016
Basin Monitors – Pranhita-Godavari Graben Basin Monitor newly completed and Bombay Basin Monitor partially reviewed
Indian Sub-Continent – Completed 3 Giant (2P EUR >=500MMboe) Field Reviews which included a full revision of remarks, reserves, development, production volumes and IOR/EOR techniques
India – 50 wells updated with tests, locations, alternate name additions, objectives, remarks and 2 wells entered
India, Pakistan and Bangladesh – 92 wells updated with remarks, TD, Objectives, Test information, Locations, Bottom hole Formation, work-over periods, spud dates, completion dates, content status
India – 149 development and injectors wells entered in the Mangala Field
India – 154 wells entered and 361 updated (Remarks, TD, Objectives, Tests, Locations, BHF, workover periods, dates, content status, Geochemistry)
Bangladesh – Updated 132 exploration wells and 78 development wells with improved datum
Pakistan – 23 wells updated with tests, remarks, new periods of activity, drilling history, hydrocarbon information
Pakistan – Updated 57 historical wells with missing attributes
India – 212 wells updated with stratigraphy and geochemistry data
India – 646 blocks reviewed and 51 blocks updated with block outlines, areas and award dates
India – 346 mining lease updated for official dates
India – As part of a complete spatial attribute review, 454 blocks had their total area updated and 117 had their basin and/or political province updated
Pakistan – Completed a review of spatial attributes, resulting in the update of 117 contracts and blocks for basins and provinces and 22 for total area
For information relating to data improvements in 2015, download our Indian Sub-Continent Data Enhancements 2015 Summary