Australasia Editorial Achievements – 2016
The IHS Markit Australasia Team has eight industry professionals comprising a Regional Manager, Researchers, Analysts and Cartographers. The team has unmatched industry and government, at both state and federal levels, contacts throughout the region. IHS Markit is focused on providing in- depth editorial coverage on the Australasian energy sector with both the globally significant LNG projects and the continued activity around unconventional resources featuring heavily in the GEPS coverage. Though slightly decreased, under the current industry climate, Shale Gas activity has continued and activity was covered on an individual well basis, as well as being represented in detail in project and company deal sections where relevant. Coalbed Methane (CBM) activity also continued to feature highly, though has moved into the further development and production phases. This continues to be covered, also on an individual well and project basis and within other relevant sections.
Development of the conventional LNG projects continued to dominate focus off the north-west coast of Australia in 2016, as well as being part of activity elsewhere in the region. The projects continued to be reported in detail, with reports on both those that are now producing and continuing to develop as well as those that are seeing delays and changes in scope under the lower oil price environment.
In Papua New Guinea LNG activity was also represented to high level and in detail in several areas, forming a significant part of the industry. Company activity, between the projects and in acreage that could be tied in to both PNG LNG and Papua LNG, was at a high level and was covered regularly in GEPS.
In New Zealand, exploration activity particularly drilling saw a decrease in 2016, though M&A activity and company activity through deals and bid rounds continued to be high. The new bid round system, which was implemented in 2016, continued, though industry participation was diminished. Coverage of the round and subsequent activity continued to be represented in detail by the team.
Data projects in 2016 included the review of 6 "Giant" Australasian fields, with a focus on several involved in the LNG projects in the region. Improvements were also made to provide better coverage of field outlines and improve the spatial data.
Another spatial improvement saw a huge project looking at the Australian datums and improving over 1,700 contract, application and block outlines. Further improvements to our commitments information was also completed following a substantial review in 2015.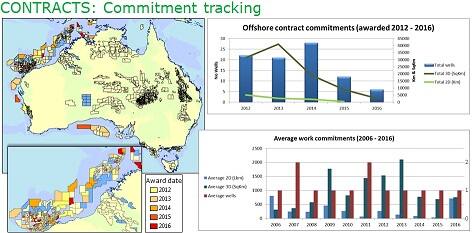 Australasia Commitments Tracking
Improvements were made to the completeness of the wells database, utilizing available WCRs. Collaborative projects, within the team and involving a number of modules, have been undertaken to align basins, fields, contracts and wells data.
Australasia team members represented IHS Markit at a number of events throughout 2016, which included APPEA in Brisbane, Good Oil in Perth and the Papua New Guinea Mines and Petroleum Conference in Sydney. The team also was present at several events in Kuala Lumpur, London and Singapore.
Australasia Key Highlights – 2016
The team represented the company at the APPEA 2016 conference in Brisbane, the Good Oil Conference in Perth and the PNG Petroleum Conference in Sydney
GEPS farm-in opportunity coverage is being improved with additional scouting, regular reviews and more detail in the GEPS coverage
GEPS Bid Round coverage was improved, with more detailed overviews and two webinars to highlight rounds ahead of the release
112 CBM wells status reviewed to ensure correctness and consistency and also to enable improved GEPS maps viewing for clients
New GEPS maps created to improve coverage and allow distinction of Conventional / Unconventional activity
Database Enhancements (EDIN) – 2016
Australasia – Roebuck Basin Monitor newly completed and the Amadeus, Bass and Bonaparte Basin totally reviewed
Australasia – Completed 6 Giant (2P EUR >=500MMboe) Field Reviews which included a full revision of remarks, reserves, development, production volumes and IOR/EOR techniques
Australia – More than 1,900 contract and application blocks throughout the country had their outlines reviewed and updated using the latest available official coordinates in GDA 94 datum to ensure better correctness and consistency
Australia – Updated 56 block areas using calculated values
New Zealand – As part of a complete review and correction of all New Zealand blocks with official and accurate coordinates in original datum NZG 2000, 80 contract and application blocks were updated
New Zealand – Updated 21 contracts as part of a complete review of all New Zealand contract for completeness and correctness
Australia – 96 CBM wells entered in Queensland and 84 CBM wells updated from planned to completed
Australia – 25 wells updated with missing well tops in Bass Basin
Australia – Updated classification of 112 development wells
New Zealand – Updated 51 exploration wells updated with comprehensive data from well completion reports
Australia – Offshore survey navigation layer project completed resulting in more than 415,460 km 2D entered (inc. 2015 data entry)
For information relating to data improvements in 2015, download our Australasia Data Enhancements 2015 Summary