8 trends that will define the market in 2019
2018 was another exciting year for the PV industry. Turbulent market conditions created by changing policies and trade disputes kept stakeholders busier than ever. Despite the uncertainty and volatile pricing dynamics which came as a result, demand for solar PV continued to grow and the milestone of 100 GW of annual installations was reached.
Our global analyst team continues to offer valuable support to existing companies as well as those now looking to play a role, by providing insightful and up-to-date intelligence on this ever-evolving market.
In this complimentary whitepaper we examine the top 8 PV trends for 2019 that will shape and re-define this dynamic marketplace for the year ahead.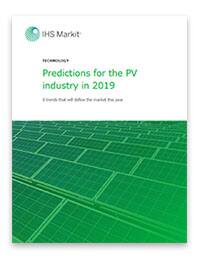 Download Complimentary Whitepaper
To view our complimentary Predictions for the PV Industry in 2019 whitepaper please fill out the form below.
required fields