Discover how Brandywine Global Investment Management optimized their trade reporting processes through their implementation of Integrated Reporting
With an investment strategy across asset classes and teams in multiple jurisdictions, Brandywine Global Investment Management needed timely reporting to meet strict deadlines and adhere to changing regulatory and trade repository requirements. To overcome these challenges the firm looked to our Integrated Reporting solution which streamlines the fragmented process allowing them to use one central, dedicated solution for their reporting needs.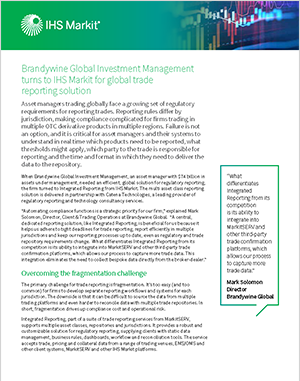 In this case study, Brandywine Global Investment Management's Director of Client & Trading Operations provides his perspective on:
What drove Brandywine Global Investment Management to use our Integrated Reporting solution for its trade reporting
How to reduce trade reporting fragmentation and compliance costs while increasing operational efficiency
How our Integrated Reporting solution reduces risk for asset managers by providing transparency of trade data through to trade reconciliation
And more
Download Case Study
To receive this complimentary case study from IHS Markit, please complete the form below.
required fields