The latest AI research from IHS Markit
As the future unfolds and technology advances, artificial intelligence (AI) will eventually touch and disrupt all industry domains, transforming our world.
Our new report, Artificial Intelligence (AI) Technology Adoption & Impact, tracks the development, impact, and disruption caused by AI technologies across industries including manufacturing, automotive, transport/logistics, consumer, healthcare, communication, and power and energy. The report answers these questions and more:
What is the revenue forecast for machine-learning-based equipment by industry?
What is the unit shipment forecast for silicon solutions by domain and application type clustered in SoC, ASIC, and MCU?
How will training and inference systems be implemented?
How will AI be implemented across key domains such robotics, servers, and data centers?
To secure your copy of this indispensable report, get in touch with your account representative or contact us.
Get complimentary AI insights. Hear what our experts are saying about AI: Fill out the form to the right to download a PDF of analyst insights.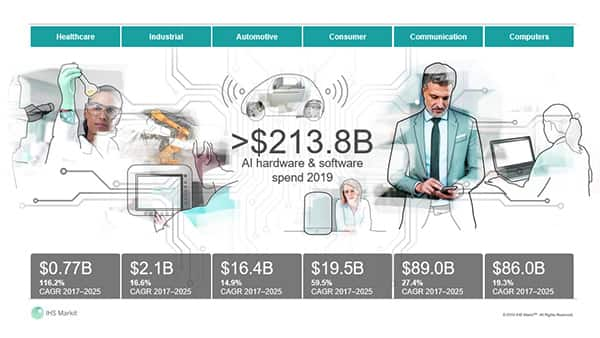 Download analyst AI insights
Fill out the form to access the insights and learn more about our AI research.
required fields