8 in 2018: Top Transformative Technology Trends for 2018

Discover the top 8 technology trends that are expected to have the biggest impact in 2018
In this complimentary IHS Markit whitepaper, our analysts look across technology industries in 2018 and provide critical insights detailing the top 8 trends that they feel will continue to shape and transform technology this year.
IHS Markit has created a new whitepaper providing insights on these transformative technologies:
Artificial Intelligence
IoT
Cloud
Connectivity
Blockchain
Machine Vision
Ubiquitous Video
Robots and Drones
Download this complimentary whitepaper to learn more about the top 8 transformative technologies that will shape and impact our world in 2018. Please fill out the form to the right to access the paper.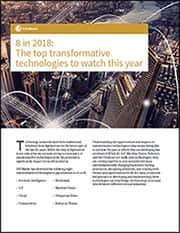 Access free whitepaper detailing 2018 Tech Trends
To receive this whitepaper detailing the 8 critical transformative tech trends in 2018, please fill in the form below.
required fields