RSNA 2016: Analysis and Insights

Complimentary report for Device Manufacturers: Medical Devices and Equipment
Healthcare Technology analysts from IHS Markit recently attended the 2016 meeting of the Radiological Society of North America (RSNA) in Chicago.
We are pleased to present this complimentary report containing insights from that visit. Culled from dozens of visits and product demonstrations, these pieces feature our analysts take on recent developments in breast screening, the increasingly crowded Flat Panel Detector supplier environment, new technologies in the MRI and CT markets, the use of virtual reality in medical applications, and ramifications of evermore sophisticated imaging software and analytics.
To download this report, please complete the form on this page.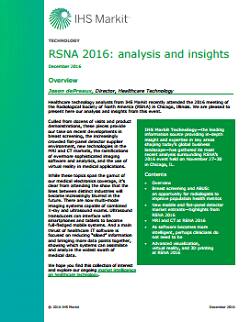 Analysis and Insights from RSNA 2016
To receive this report "RSNA 2016: Analysis and Insights", fill in the form below.
required fields