The Internet of Things: A movement, not a market

The number of connected IoT devices worldwide will jump 12% on average annually, from nearly 27 billion in 2017 to 125 billion in 2030.
The emerging IoT movement is impacting virtually all stages of industry and nearly all market areas. It is transforming everyday business practices and opening new windows of opportunity.
Download this ebook to understand why IoT matters for your business.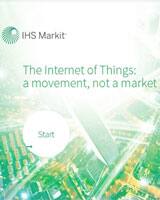 Download free ebook - Learn how IoT will impact you
To gain insight into how IoT will impact you and your business, please fill out the form below.
required fields