Artificial Intelligence in Automotives

Reprogramming the future of mobility with deep learning
The vision of self-driving vehicles grows closer to fruition - but how are automotive companies addressing the deep and thorny technical issues that stand between concept and mass production?
A major area of focus is that of using Artificial Intelligence (AI), to mimic and implement human reaction.
This IHS Markit whitepaper provides an expert view into advancements in a key sector of AI - "Deep Learning" - that shows great promise and hosts a number of innovative initiatives in the automotive community.
In this complimentary whitepaper, Luca DeAmbroggi, Principal Analyst for Automotive Semiconductors, Infotainment and ADAS at IHS Markit, will address these questions:
What is the automakers vision of self-driving vehicles?
What is "deep learning" and why is it important for the development of autonomous vehicles?
What are the big issues that need to be addressed in the evolution of autonomous driving technology?
Where is innovative work being performed that pushes the industry from vision to reality?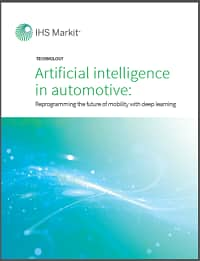 Complimentary whitepaper on artificial intelligence in automotives.
To receive your copy of this complimentary whitepaper on artificial intelligence in automotives, fill in the form below.
required fields