Outcome focused OSINT training from Jane's

Transform open-source information into actionable intelligence
Delivered by practitioners, for practitioners
Jane's OSINT training from IHS Markit is delivered by subject matter experts who use and update their knowledge and skills every day, allowing them to pass on the most up-to-date methods and techniques to trainees. The courses are both theoretically and practically valuable, allowing trainees to go back to their desks and have an immediate impact within their organisations.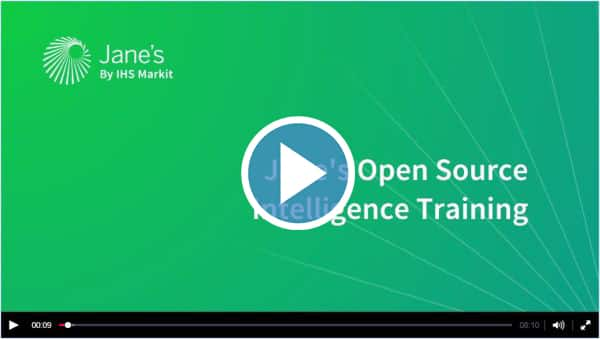 Practical, interactive and hands on
Jane's OSINT Training gives you the tools to exploit open source information and deliver meaningful, actionable intelligence – on time, every time. All our training courses are designed in such a way that minimise direct lecturing from the trainers, allowing them to maximise and blend trainer-led instruction within group, individual and classroom size exercises and practical case studies.
Upcoming Training Courses:
OSINT Methods & Techniques (2 days)
Discover the latest methods and techniques to improve the way you gather, process and report open-source information and intelligence.
Social Media Intelligence (1.5 days)
Learn how to more efficiently and effectively exploit social media sources to inform multi-source intelligence assessments.
Cyber-Security Awareness (2 days)
Develop cyber security awareness to minimise risks while engaged in online research.
Dynamic Thinking for Anti-Money Laundering (AML)
Provides methods and develops skills to counter money laundering and terrorist financing in the financial services industry.
Advanced OSINT Exploitation (2.5 days)
This workshop is a more technically-focused workshop that enables participants to gather information that is openly available but is either difficult to get or to make use of. For example obtaining website metadata or social media data via API.
Key benefits of attending training:
Analyse and deconstruct intelligence taskings, frame research requirements and focus on collection activities
Use effective methods to collect, collate and process open source information
Conduct source and content analysis which helps to challenge assumptions and create more rigorous reports
Examine the data available from different angles and perspectives to reduce ambiguity
Communicate open source intelligence assessments clearly
Conduct safe and optimised searching of online sources
Understand the dynamic social media landscape and incorporate insights into a multi-source intelligence assessment
Monitor and analyse social media effectively while understanding it's uses and limitations
Make an immediate impact – Request more information now
Register now and discover how Jane's OSINT Training will enable you to deliver a more robust intelligence product.
Register your interest
To find out more about Jane's OSINT Training, please complete the following information.
required fields