What are the key drivers, challenges and activities on the road to 5G?

5G is a story in the making
The path to full 5G adoption is complicated and still evolving. While preliminary 5G standard specifications are expected in 2018, standards development and deployment is expected to reach into 2022 and beyond.
Expectations for 5G are sky-high, with a wide range of features and capabilities being promised. Still, from infrastructure and spectrum to devices and use cases, there are many opportunities, challenges and questions surrounding 5G development.
Operators, content providers and infrastructure across the globe are moving at varying speeds when it comes to testing and deployment. And despite many challenges, the hype around 5G is already building — similar to what was seen for 3G and 4G. It is crucial to be able to identify the relevant issues for 5G planning.
Download this complimentary ebook to explore current and potential use cases and drivers for 5G adoption, and immediate concerns surrounding 5G development across industry verticals, from infrastructure and spectrum to devices and use cases.
And be sure to access our complementary ebook on 4G to 5G: What Service Providers Are Saying.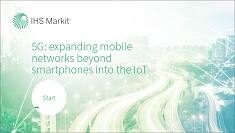 Download free ebook
To gain insight on the road to 5G, please fill out the form below.
required fields