Where are service provider networks on the road to 5G?

We are just getting into a 4G world — LTE-Advanced (LTE-A) and LTE-Advanced Pro (LTE-A Pro) — and 5G is already around the corner.
Pre-commercial fixed-wireless access (FWA) services are expected in North America as soon as the end of 2017, with enhanced mobile broadband (eMBB) anticipated in Asia in the second half of 2018.
To assess the situation, we interviewed 21 of the world's largest 4G service providers to take stock of where their networks are and where they are heading.
Download this complimentary ebook to discover key findings from our recent Evolution from 4G to 5G Service Provider Survey. Topics include:
4G: Laying the groundwork for 5G
Get ready: 5G is coming faster than you think
What's driving 5G rollouts?
Top use cases for 5G
Challenges and barriers to upgrading to 5G
And be sure to access our complementary ebook on 5G: Expanding mobile networks beyond smartphones into the IoT.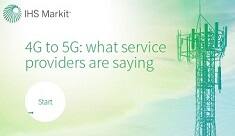 Download free ebook on service provider 5G plans
To gain insight into where the world's largest service providers are on the road to 5G, please fill out the form below.
required fields