A look inside the smart home market
IHS Markit eBook focuses on the rapidly growing smart home market

The smart home is in a constant state of change.
Just six years ago, there was a global installed base of only 4 million smart home devices such as garage door operators, electronic locks, thermostats, light bulbs and appliances. Today, the installed base of smart home devices is estimated by IHS Markit to be around 165 million devices worldwide.
Despite this rapid increase in devices, the smart home market remains fragmented and there are many questions that still need to be answered:
How is the smart home evolving?
What are the options for managing a smart home?
What percentage of the smart home market does 'multifamily' represent?
How much of the professional security monitoring market is devoted to smart home?
Complete the form on the right-hand side of the page to download a complimentary eBook that answers these questions and more.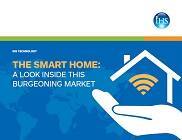 The smart home: A look inside this burgeoning market
Download this eBook to learn how the smart home market is evolving and get key figures on projected growth.
required fields