Jane's Defence Industry 20YY

Scenario planning for the next 5 years and beyond
The global defence industry is contending with several disruptive global forces that will impact how companies evaluate immediate and future opportunities and risks. Jane's Defence Industry 20YY from IHS Markit identifies startling trends likely to emerge and significantly impact the global defence industry over the next 20 years.
Go beyond existing analytical filters, linear trends and today's "in box" realities
Combining multi-disciplinary data and expertise, the report's content and takeaways are intended to provide you with a unique and discriminating perspective on the coming major changes to the global defence industry.
Explore a future of growing complexity and uncertainty
Our qualitative, strategic-level framework scenarios isolate and explore the dominant drivers shaping the future global defence industry.
Scenarios explored:
Industry Insurgency
Divergent Disruption
Failing Frameworks
Unrivalled expertise tailored to you
Along with a written report Jane's Defence Industry 20YY also includes a half day in-person and/or teleconference briefing. Jane's team of subject matter experts will brief our findings, which will in turn serve as a catalyst for broader discussion of current, emerging and future challenges and opportunities for defence professionals, companies and organisations.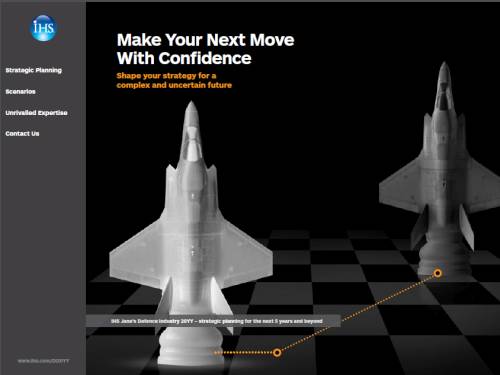 Plan ahead, register your interest now
For more information, please complete the following.
required fields