EDM Warehouse case study: Robeco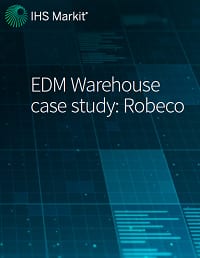 Find out how the Dutch asset management firm Robeco has used EDM Warehouse to reduce delivery times for historical data while improving data quality and usability.
A longstanding user of the Enterprise Data Management (EDM) platform from IHS Markit, Robeco concluded that it also needed a data warehouse to address requirements to analyze and report on historical data in a timely manner. The firm chose EDM Warehouse to meet these demands.
This case study reveals how:
Robeco used internal resources to implement EDM Warehouse
A pre-defined data model was leveraged to achieve a quick time to market
EDM Warehouse has been combined with EDM as part of an end-to-end solution at Robeco
EDM Warehouse is being used as an effective system of record for historical data that supports reporting
And more
To receive this free case study from IHS Markit, please complete the form below.
required fields