Terrorism risks to the 2018 World Cup in Russia
Russia will host the 2018 World Cup from 14 June-15 July in 11 host cities across the country. We have assessed the terrorism threat risks to the tournament and its attendees.
The main security concern for the Russia World Cup is the terrorism threat driven by militancy in the North Caucasus region and by Russian military engagement in Syria.
Russia's security services are likely to mitigate most potential acts of terrorism; militants are likely to aspire to attack stadiums and fans on match days.
Potentially successful attacks would probably be of a low capability, involving vehicles, knives, or crude IEDs.
Low-probability outlier scenarios include the use of weaponized UAVs, significant IEDs, or the use of CBRN materials.
We have assessed that the greatest threat to the World Cup comes from low-capability actors either inspired or directed by Islamist groups. Download our assessment report to understand the complete risk profile for the World Cup.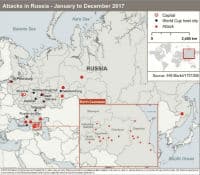 The report covers:
Threats from returning jihadists and North Caucasus-based groups Likely terrorist tactics
Major attacks outside North Caucasus
Match-day stadiums review
Indicators of changing terrorism risk affecting the World Cup
Security countermeasures
Outlook and implications
Get streamed intelligence, dynamic forecasts, advanced mapping and location-specific risk ratings for personnel, property, cargo and operational risk in preparation for and during the 2018 World Cup in Russia.
Foresight Location Analytics: Map and quantify risk for precise locations of corporate personnel, properties, customers, suppliers and transportation routes with location-specific risk scores for every 500 X 500 meters on land.
Foresight Country Risk for Security Professionals: Develop and maintain a best-in-class security function within your organization.
Understand the Russia's terrorism risks for the 2018 World Cup
To download the special report, please complete the form.
required fields