Comparative Healthcare Financing Trends in Europe
Click to download the special report now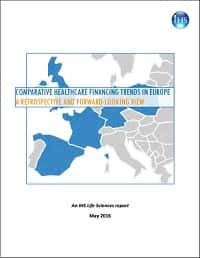 How is healthcare spending expected to evolve through 2020? What will be the impact of breakthrough treatments in indications such as non-small cell-lung cancer? How are individual countries positioned to support access to these new treatments?
Download our special report for a reflection on healthcare access and financing in Europe.
The past five years have been accompanied by a major shift in thinking in the world of healthcare. With the genericization of atorvastatin in 2011, the era of on-patent, primary-care blockbuster drugs seemed to have reached its high watermark. Healthcare systems around the world were prepared to benefit from the so-called patent cliff, seeing new levels of cost containment achievable on the back of generic uptake. The pharmaceutical industry faced serious question marks over declining R&D productivity and a dearth of pipeline candidates.
Since that time, a new reality has emerged, one characterised by immense progress with the deployment of targeted therapies in specialist care. With many of these treatments associated with price premiums, question marks over the sustainability of industry pipelines have given way to question marks over the sustainability of healthcare systems.
Across Europe, cost containment intensified by this reality and the recent economic crisis has led to serious debates surrounding patient access. With growth in public healthcare expenditure expected to remain negative or subdued in real terms through 2020, this raises important questions over the potential impact on outcomes if pharmaceuticals remain a key target for cost containment.
Learn More
Thank you for your interest in our life sciences pricing and policy work. Fill in the form below to talk to us in more detail about how our consulting and services can help you.
required fields