Quarterly Shipping Report
The IHS Markit major fleets and shipbuilding outlook provides a quarterly view of the key vessel type segments, dry bulk, crude and container fleets along with an overview of the general shipbuilding market.
In addition to our outlook for the major fleets in the report, we also share a macroeconomic and trade outlook based on insight from our Economics & Country Risk and Financial Markets teams.
View our Quarterly Shipping Report summary as Dalibor Gogic, Maritime & Trade Principal Research Analyst for IHS Markit outlines the key areas covered in the full report.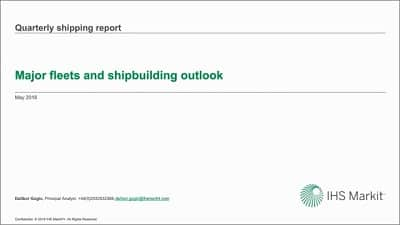 Major Fleets and Shipbuilding Outlook
To receive your copy of our Quarterly Shipping Report, please complete the form below.
required fields