New complimentary blockchain eBook
This eBook provides a thorough examination of how blockchain works, and vertical industry insights on blockchain adoption and activity. Understand how blockchain technology could change the way industries manage transaction data and contracts, discover real-world implementation challenges, and see how this business model could impact our world in the long-term.
In this eBook, our analysts provide insights on:
How blockchain technology works and key characteristics
Blockchain for industry verticals
Challenges in blockchain and distributed ledger
Please fill out the form to the right to access the eBook.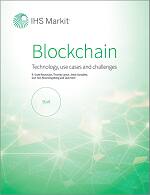 Access free eBook detailing the latest blockchain insights
To receive this complimentary blockchain eBook, please fill in the form below.
required fields