Loyalty Analytics Solutions

Build, measure and improve vehicle owner loyalty
Which models and makes are pulling away your customers? Whom should you target with your conquest campaigns?
Automotive dealers, financial institutions, product/marketing managers and OEM corporate/field staff use these tools for:
Market research: Understand which customers are returning to market, repurchasing or defecting
Field alignment: Implement dealer loyalty incentive programs, defection roadblocks and conquest strategies
Sales planning: Determine realistic sales targets and track dealer performance
Product planning: Promote winning vehicle models, characteristics and market segments
Competitive analysis: Benchmark competitors and understand defection risk and reasons
Marketing: Craft tailored messaging for loyalty and conquest audiences
Learn how loyalty insights can be transformed into actionable audiences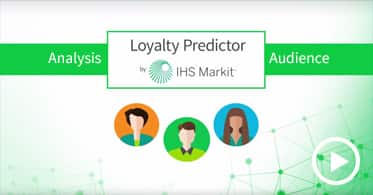 Request a live demo of our Loyalty Analytics Solutions
To receive a live demo of our IHS Markit Loyalty Analytics solutions, please fill out the form below.
required fields