Complimentary Data Center eBook

Renewables: The future of data center power
Powering data centers with renewable energy: Exploring market demand, solution offerings and market opportunities.
One of the largest expenses for data center operators is the electricity necessary to power and cool a facility. More companies are looking into renewable energy options, driven by reduction in long-term energy cost, attractive tax incentives and increased customer demand. But when and how to introduce renewable energy to a data center operation is not a one-size-fits-all endeavor.
Download this ebook to learn more about each factor to consider before implementation of renewable energy:
Market demand including industry challenges driving the switch to renewables
Type of renewable energy technology and the benefits and drawbacks for each
Early adopters and their progress in meeting their goals
Market opportunities of products supplemental to renewable energy sources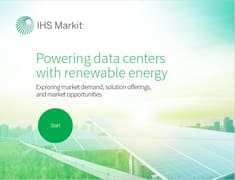 Download free eBook
To gain insight on renewable energy in data centers, please fill out the form below.
required fields