Download the US Shale & Tight Oil Plays Map
U.S. oil production has reversed its trajectory, rebounding from its low point in mid-2016 of 8.7 mmb/d to grow more than 1 mmb/d by the end of 2017. This rebound is the result of many factors in the complex U.S. supply system, as 2017 saw only 1,000 more wells come online than in 2016.
So, where are oil and gas opportunities in 2018? And, which of those basins have we deemed "super hogs", horizontal wells brought on-stream since January 2016 and producing over 1,600 bbl/d of oil during the peak month.
Get instant access to additional insights about the lower 48 basins and "super hogs" by downloading the map.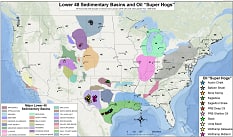 To receive an electronic copy of the map, please fill out the following information.
required fields