The Smart Home: Progress is evident, but fragmentation persists

Complimentary whitepaper on the Smart Home
The smart home is constantly changing. As a result, equipment suppliers, service providers and others involved in the industry seek to have a strategy that is forward thinking and flexible. In 2010, the global installed base for smart home devices amounted to 4 million, spanning garage door operators, electronic locks, thermostats, light bulbs and appliances. This year, the installed base will rise to about 170 million devices globally, IHS Markit projects.
In this whitepaper, IHS Markit discusses the current state of the smart home and what can be expected in the coming years from both a device and monitoring perspective.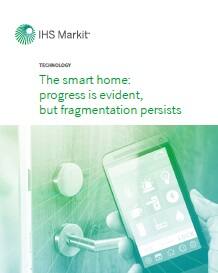 Complimentary whitepaper on Smart Homes
To receive this whitepaper on the current state and future of smart homes, fill in the form below.
required fields