7 Manufacturing Technology Predictions in 2017
What the industrial automation market can expect this year
After a disappointing 2016 in automation sales, declining revenues for many equipment suppliers and investment uncertainties in numerous end markets, vendors in industrial automation are hoping for a brighter 2017. With changing market conditions filtering down from the macro level to technology adoption, what can the industry expect this year?
In this complimentary paper, IHS Markit manufacturing technology experts representing a variety of industrial segments provide their predictions on what the 7 biggest trends and developments will be for the market in 2017. The trends in the paper, as identified by IHS Markit analysts and listed in no particular order are:
Global market to grow despite headwinds
Remote cloud-based analytics to shift to local and edge computing
Industrial automation to become more influential in outsourced or relocated manufacturing
Software-centric solutions to stay competitive
Capital equipment markets to consolidate
Connectivity standards to prevail
Artificial Intelligence (AI) to ramp up on the factory floor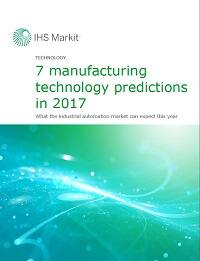 Learn about the 7 Manufacturing Technology Predictions for 2017
To receive your copy of our 7 Manufacturing Technology Predictions in 2017, please fill out the form below.
required fields