A Complimentary eBook on the Internet of Things
The Internet of Things (IoT) has brought about a fundamental change in the way we use technology. And while the potential benefits of the IoT are significant, there are no easy answers to the inherent complexity.
Leveraging its deep technology knowledge and extensive vertical research, IHS Markit has identified four key trends that are expected to drive the development of IoT in 2017 and beyond—all of which are critical to establishing a solid foundation and driving future growth.
The themes discussed in our complimentary IoT eBook are:
Innovation and competitiveness
Standardization and security
Business models
Wireless technology innovation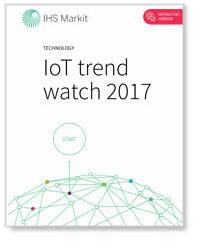 Complimentary eBook on IoT
To receive this eBook on IoT trends in 2017 and beyond, fill in the form below.
required fields