Insights — Chemical and Energy
IHS Markit Insights is a quarterly complimentary publication, which features expert analysis of the key issues shaping the global chemical and energy industries.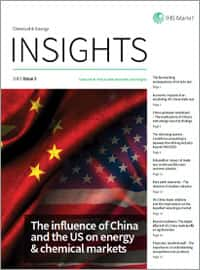 Latest Issue
In many respects, the deterioration of US-China relations is viewed as the primary reason for a slowing global economy. Though not the only issue, there is significant direct and collateral damage being caused by the escalating trade dispute between the world's two largest economies. While we can also acknowledge there are areas of collateral benefits from the US-China trade dispute, the overwhelming impact on the global economy is negative, resulting in a slowdown in demand growth in many industry sectors. In this issue we look at the far- reaching consequences of a trade war, pulling together topics that are both directly and indirectly related for discussion. IHS Markit teams around the world are positioned to provide companies across the energy to chemicals value-chains, with the data, analysis, analytical tools and expert advice to help them navigate this heightened level of uncertainty.
Please complete the following to access this quarter's issue and register to receive future issues.
required fields