Insights — Chemical and Energy
IHS Markit Insights is a quarterly complimentary publication, which features expert analysis of the key issues shaping the global chemical and energy industries.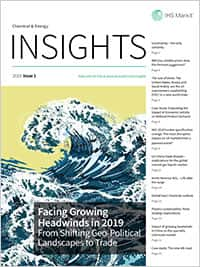 Latest Issue
In contrast to the broad optimism of just twelve months ago, today's geo-politics and regulatory changes plus a weathered business cycle are combining to create more uncertainty and pessimism for the chemical industry. Meanwhile, the refining complex is imminently undergoing the most disruptive change to bunker fuel standards in a generation. And as an overlay, oil dynamics have created substantive volatility, with impact on secondary inventory movements that have further aggravated chemical industry supply-demand dynamics.
In this issue of Insights, we take you on a tour of these dynamics, covering the full breadth of the interplay from economics to energy to chemicals.
Please complete the following to access this quarter's issue and register to receive future issues.
required fields