Insights@weight>
From Energy & Natural Resources to Chemicals and Agribusiness
Please complete the following to access the latest issue and register to receive future editions
required fields
English | Chinese
IHS Markit Insights is a complimentary bi-monthly publication, which features expert analyses of the key issues shaping our global energy & natural resource, chemical and agribusiness industries.
Latest issue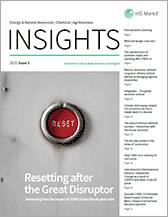 The coronavirus pandemic of 2020 will be remembered as one of the most impactful events in modern history. For the global energy, refining and chemical industries, plotting a path forward has never been so difficult.
In this issue of our ENR Insights Publication, we assess the unprecedented level of complexity in planning business strategies over the next 18-24 months. The assumptions around a timeline for containing COVID-19 enables assumptions to be made regarding demand recovery. As demand recovers, assessing damages to different segments of the energy-to-consumer products value-chain will enable the development of different pathways to recovery.
From significant cuts in upstream capital to re-inventing refineries in Europe and looking at variations in the demand impact for base and specialty chemicals, IHS Markit experts share their analysis and insights to support a fully integrated view of a recovery. The overarching theme running through all segments is climate change and the push to reduce emissions. Due to the impact of COVID-19, IHS Market Energy & Climate experts are expecting the largest-ever annual decline in global emissions for 2020. This forecast along with other issues are also a key topic of discussion.
---
Inside this issue