Insights – Chemical and Energy
IHS Markit Insights is a quarterly complimentary publication, which features expert analysis of the key issues shaping the global chemical and energy industries.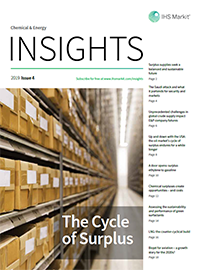 Latest Issue
Three themes are evident throughout this issue: surplus, sustainability, and integration. First, markets from oil to gas to petrochemicals are in a cycle of surplus as a result of slowing demand growth, large capacity expansions, or both. Second, policymakers and companies are seeking sustainable solutions across value chains, but regulations are not always aligned to incentivize low-carbon supplies. Finally, increasing integration is needed—often to address sustainability needs—from natural gas-derived ethylene converted into gasoline to agricultural feedstocks and alcohols made into jet fuel. Our IHS Markit Energy and Natural Resources business provides a uniquely integrated perspective, incorporating market, technical and commercial analysis throughout the value chain, as evidenced in this publication.
Please complete the following to access this quarter's issue and register to receive future issues.
required fields