Insights — Chemical and Energy
IHS Markit Insights is a quarterly complimentary publication, which features expert analysis of the key issues shaping the global chemical and energy industries.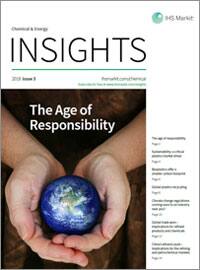 Latest Issue
Progress towards a circular economy is in vastly different stages of formulation and implementation throughout the world. These shifts will impact demand for virgin resins, with knock-on effects throughout value chains and into feedstock demand, even changing the future investment requirements for new production capacity. We can be sure that the challenges over the next 10 years will not be the same as those during the last decade. The articles contained in this issue of IHS Markit Insights – Chemical and Energy, deals with a number of these issues.
Please complete the following to access this quarter's issue and register to receive future issues.
required fields