Insights — Chemical and Energy
IHS Markit Insights is a quarterly complimentary publication, which features expert analysis of the key issues shaping the global chemical and energy industries.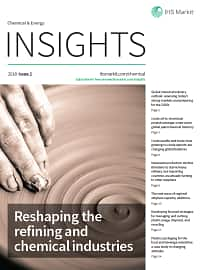 Latest Issue
IHS Markit is tracking the emergence of several trends that will reshape the refining and chemicals industries during the 2020s, a decade which sees investors in the chemical industry seeking to balance the "petro-chemical trilemma,": economic benefits of investment in the chemical value-chain, a sustainable approach to the consumption of natural resources, and offering sound environmental stewardship that is responsive to societal demands for a healthy and clean environment. The articles contained in this issue of IHS Markit Insights – Chemical and Energy, deals with a number of these issues, assessing operating in the sixth year of an extended upcycle and beyond.
Please complete the following to access this quarter's issue and register to receive future issues.
required fields