Insights — Chemical and Energy
IHS Markit Insights is a quarterly complimentary publication, which features expert analysis of the key issues shaping the global chemical and energy industries.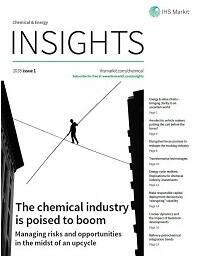 Latest Issue
The refining and petrochemical industries are shaped by a complex set of market, regulatory, technological and economic forces. As we look forward through 2018 and beyond, we see these forces creating a set of industry dynamics with an unprecedented level of uncertainty with implications for industry pricing and profitability. Economies that had been mired in weakness or risk attributable to high debt or weak commodities, are now strengthening. Regulatory pressures on the industry are in acceleration. Transformative transportation technologies are moving forward, and despite the evolving economic and regulatory framework and uncertainty/volatility in energy, the chemical and refining markets have been remarkably stable in terms of profits, yet we at IHS Markit see the near-term markets remaining tight. The articles contained in this issue of IHS Markit Insights – Chemical and Energy, deals with a number of these macro issues.
Please complete the following to access this quarter's issue and register to receive future issues.
required fields