Insights — Chemical and Energy
IHS Markit Insights is a quarterly complimentary publication, which features expert analysis of the key issues shaping the global chemical and energy industries.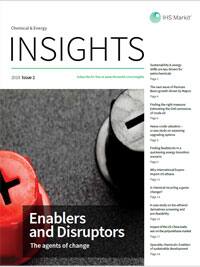 Latest Issue
In this issue, we look at how increasing climate change concerns are expected to drive a need for greater understanding of greenhouse gas (GHG) emissions for crude oil and chemicals through their value chains. While for sustainability, chemical recycling technologies are a potential game-changer for the plastics industry. In the U.S. Permian Basin, oil production is expected to nearly double in the next 5 years with the major oil companies bringing deep balance sheets, large-scale enterprises, and high integration of midstream and downstream assets to the mix, which may enable a return to longer-cycle economics. We also explore the implications of the energy transition on the global energy supply mix, where fuels demand is declining due to improved fuel efficiency standards and structural changes in mobility. Specialty chemicals are also a significant enabler for diverse sustainable chemical solutions in clean water, wastewater treatment, and clean energy applications.
Please complete the following to access this quarter's issue and register to receive future issues.
required fields